A Twitter feed will share TV screen space with Nationwide Tour golfers this weekend as Golf Channel features writers offering analysis alongside of already long-winded commentary. Do I really need on-screen "captions" telling me what I'm already watching? Is Golf Channel removing the "social" from the media?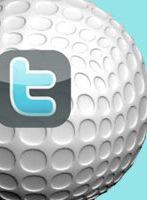 You can see what Golf Channel intends to do here but the screen caption does not give me faith in their new "Social Media Saturday". The comment by Rex Hoggard says it all, "Watching JJ Killeen roll up his pants could be an amazing shot from the water." He follows up with, "Hope everyone is watching on the Golf Channel." Oh boy, if this is what golf fans are in for, this golf TV network just took two steps backward!
First, I can see that Killeen is in the water and am excited to watch the shot. Second, I do not need the Golf Channel to place its ad directly in front of me as I'm watching this amazing shot. I hope the commentary is both humorous and entertaining...and tell me something that I don't already know!
Hoggard, joined by Randall Mell, will replace traditional play-by-play commentary during their allotted time, which will be during the next to last group and final pairing of the Nationwide Tour Championship from South Carolina.
It doesn't seem as if some fans have faith in the new concept as it will be displayed on Saturday.
@Courtgolf, for example stated, "This tells me that xxx Golf Channel thinks their people are more important than the players. I hope this is a short lived experiment in media intrusion."
Fogroller so eloquently said, "Oh great, now we can have Rich Lerner and Kelly Tilghman kiss Tiger's butt on our twitter feed!! No thanks."
The concept sounds intriguing, but isn't social media meant to be interactive?
When I asked @dennis_allen about adding a Twitter feed to golf broadcasts, although he liked the idea, he was concerned about the lack of fan engagement. "Why just one way tweets?" Dennis questioned, and he has a valid point. The "one-way traffic mentality" as Allen conjectured, leaves fans without a way to engage, to be social.
Devil Ball Golf, agrees that Twitter integration with golf broadcasting is a great idea but wonders if an opportunity is being missed by not adding fan tweets to the mix. "social media...opens the door wide to amateur commentators from all over the planet, many of whom are much funnier and more incisive, at least for one tweet, than the professionals."
I have a few concerns regarding the Twitter format. For one, the feed is directly in my line of sight.  Golf is a picturesque sport and I enjoy gazing at the course on my screen. Perhaps the feed should be rolling across the bottom of my screen so as not to disrupt the visuals.
I also have a problem with the type of tweets that will be featured and when they will be placed: the eighteenth hole is the most exciting portion of the golf tournament, in my opinion. If Golf Channel wants to experiment with new technology, do it during a portion of the broadcast that begs for attention.
Finally, Twitter allows for social engagement: let the fans have a say!
Speaking of having a say, VOICE YOUR OPINION on Twitter @Golf4Beginners and friend GolfforBeginners on Facebook!