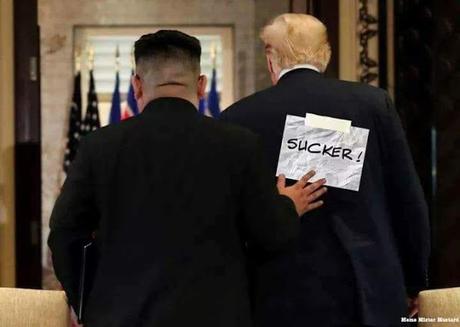 (Image was found on Facebook. The originator is unknown.)
Donald Trump is in Vietnam for a second meeting with North Korea's Kim Jong-Un. The last time they met (in Singapore), Trump got nothing except an agreement that didn't oblige North Korea to do anything.
In spite of that, Trump claimed that he had made the world safe, and North Korea had agreed to give up their nuclear weapons. It was not true. North Korea continues to make nuclear bombs and missiles capable of carrying them -- and the world knows that. Note in the chart below (from the Pew Research Center) that both Americans and people in other countries are still concerned about the danger of North Korea having nuclear weapons.
Since then, he has scaled his claims back, since his own intelligence agencies have said the North Koreans have done nothing to disarm. Now Trump claims that his visit caused North Korea to stop testing nuclear bombs and missiles. That's another disingenuous claim. They have tested both enough to know they work.
Will Trump be played for a fool again this time? It's likely. No one believes that North Korea will give up their nuclear weapons. Even many in the White House are nervous that Trump will give up too much for spurious promises from North Korea -- promises they have no intention of keeping.
The meetings start Wednesday, and the world holds its breath -- hoping that Trump doesn't blow it too bad this time. Sadly, that's probably a vain hope.