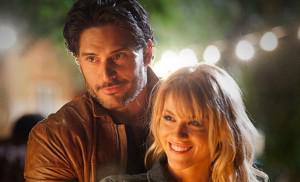 Joe Manganiello's character on True Blood, Alcide Herveaux, is dark, brooding, incredibly handsome, and not so lucky in love. Sure, he's currently dating Debbie Pelt (Brit Morgan), but after how last Sunday's episode "Spellbound" ended, it's safe to say that he and Debbie are headed for another rough patch. Manganiello chatted with Digital Spy this week about Alcide and Debbie's relationship and where the couple are headed this season.
Manganiello admits that he's done quite a bit of research for his role as a werewolf, and he discovered some information that has helped him come to terms with why Alcide took Debbie back after all her season 3 shenanigans:
"I did a lot of research on wolves and things and there's a chemical wolves secrete. It's the mate for life chemical and it's in wolves and not dogs. So I thought about that, and I thought about how difficult it must be for them to separate. And also growing up as a werewolf and living hidden from society, you can't open up to normal people. You couldn't just go out on a date with a human girl and tell her who you were unless you were really sure."
Regardless of the mating for life mantra, Alcide did break his promise to Debbie and, well, we've seen how crazy she can get, so who's to say she won't go completely nuts again? Manganiello went on to say:
"Debbie's obviously tried to make amends for her past transgressions and done so in such a convincing manner that Alcide would give her another shot. So obviously only time will tell how good of a job she does, or how consistent of a job she does."
What do you think, Truebies? Do Alcide and Debbie have what it takes to live happily ever after? Or will Debbie's fate play out similarly to what happens in the book series?
Source: Digital Spy – 'True Blood' Joe Manganiello explains Alcide, Debbie relationship
Photo Credit: HBO