What do Annika Sorenstam, Dustin Johnson, Jim Furyk and Hootie and the Blowfish have in common? They will all be gathering at Barefoot Resort Dye Club in Myrtle Beach for the 18th annual "Monday after the Masters" shindig. Will Tiger Woods be flying in to join his friends for the celebration?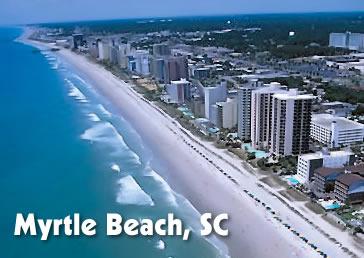 Although Woods looked to be in decent form at the Tavistock Cup this week in spite of his Achilles injury (and the fact that his team stumbled to a last place finish), he proclaimed that he is ready for the Masters. It is understood that Tiger Woods will be performing at Augusta but a good showing in the first major of the year might make the difference between a quick jaunt into Myrtle Beach for a party or a flight home to sulk aboard his yacht.
While Tiger Woods and PGA Tour/Euro Tour players are making their way through the very treacherous yet beautiful Augusta National, many amateurs will happily be converging nearby in South Carolina to play golf in Myrtle Beach. This is the perfect time of year to hop a quick flight to this golf and beach destination; the weather couldn't be any better! Myrtle Beach also recently reached its three-millionth tee-time booking milestone
 and, with one-hundred finely manicured golf courses to play, the choices seem endless.
Among Golf Digest's choices for America's top-100 public golf courses in Myrtle Beach are Grande Dunes Golf Club (rated #46) and Tidewater Golf Club (rated #94), which I had the pleasure (?) of playing on a cold, rain-soaked day. Tidewater showed me early on in my golf learning curve that there are some golf courses that are meant for more serious golfers. Myrtlewood Palmetto Course was more for a beginner as I was when I played there several years ago, but I now think I am ready to take on Tidewater.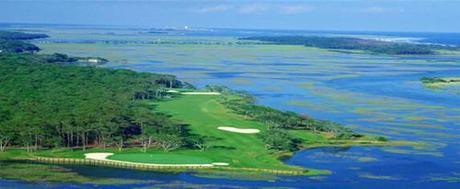 Tidewater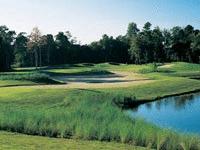 For golfers who want to "grip-it-and-rip-it", John Daly's Wicked Stick Golf Links may be your dream golf course. There are no fairway bunkers so players can hit from the "Daly tees" without being penalized for landing in (or around) the fairway while the shorter hitter will be encouraged by a wealth of shot-making opportunities.
 Wicked Stick Golf Links
For players seeking a resort feel, Barefoot Resort features four golf courses created by Norman, Love Fazio and Dye, each creating a unique golf experience. The Norman course features seven holes spread along the Intracoastal waterway. The Love course is lowcountry style is set among the ruins of an old plantation and features wide open fairways. Fazio also incorporates a lowcountry design while Dye's "semi-private design" is considered "beautiful yet treacherous." This is where the Monday after the Masters golf gala will be held so make sure to get your round in advance!
Here's a great idea... Why not fly into Myrtle Beach, rent a car, play a few rounds of golf, drive down to Augusta for the Masters, then drive back to Myrtle Beach and enjoy the big after-party with Tiger Woods and the gang! How often do you get this opportunity?
Voice your opinion on Twitter @Golf4Beginners and friend on Facebook.
photo credit: Myrtle-Beachgolf.com, Golfnow.com
Posted via email from stacysolomon's posterous