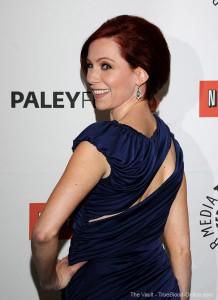 Recently, UGO spoke with Carrie Preston (Arlene Fowler) about her part in SXSW's A Bag of Hammers. During their discussion, they, of course had to ask some questions about True Blood and she made an interesting comment about the end of the upcoming fourth season.
The conversation went:
Q: Have there been any rumblings of True Blood's fifth season yet?
Carrie Preston: Yes yes, we all sort of talk about it, and certainly the way the season ends…they better do another one! There are going to be some very disappointed fans if they don't.
Q: A Cliffhanger?
Carrie Preston: Yep!
Of course, True Blood ending on cliffhangers happens pretty often. But it's certainly interesting to hear that the season four cliffhanger would leave fans hanging so dramatically! And, unless thousands of True Blood fans suddenly fall off the face of the earth, we are certain the show will be renewed for a fifth season. So, that cliffhanger will be explained!
source: ugo.com