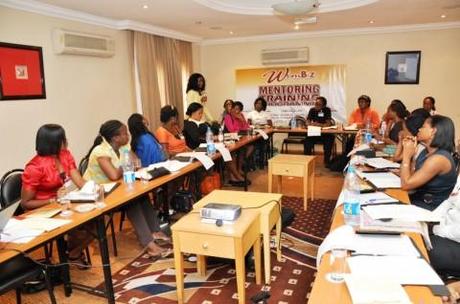 Nigerian businesswomen take part in a CIPE-sponsored mentoring program in 2011.
Nigeria will soon begin a national discussion that could redefine the foundations of the entire country. Unfortunately, as originally planned, this process would have left women largely out of the conversation.
On March 17, a National Conference including delegates from government, civil society, and the private sector will convene to consider rewriting the military-era constitution, redefining the country's internal borders and administrative structures, strengthening institutions to combat corruption, and many other issues that may shape Nigerian society for years or decades to come.
The conference could usher in important changes for a nation plagued by corruption, religious conflict, and poverty — but the original  pool of nearly 500 delegates included just 72 women from three associations. With a 75 percent majority required to take what could be fundamental decisions about the country's future direction, women were at risk of being completely marginalized.
CIPE has been working in Nigeria to increase dialog between policymakers and women's business associations — and when the delegate list was released, one of these associations took action. Teaming up with other women's civil society groups, the Nigeria Employers' Consultative Assocation's Network of Entrepreneurial Women (NNEW) held a national press conference to call for more women's representatives at the conference.
Entrepreneurs and women from rural areas, most of whom don't belong to formal organizations, were at particular risk of being excluded, said Fayo Williams, First Vice President and head of the Advocacy Committee at NNEW.
The NNEW is one of 17 associations from around Nigeria that make up the Associations of Nigerian Women Business Network (ANWBN), an advocacy coalition formed as a direct result of CIPE's training programs in the country. The mission of the organization, which represents over 3,000 women entrepreneurs, is "to improve and encourage sustainable entrepreneurship development among women through advocacy in the six regions of Nigeria."
As a result of NNEW's effective advocacy efforts, the government has invited two more women's associations to participate in the National Conference, one of which — the Women's Consortium of Nigeria — is also a member of the ANWBN.
The ability to get results and increase the representation of women at such an important high-level event is a remarkable success for these organizations, and shows that women in the private sector have an important voice in the democratic process in Nigeria. Hopefully this voice will be sustained as the National Conference carries out its mission.
Erica Poff is a Program Officer for Africa at CIPE.
Social Media / Communicatiosn Coordinator Jon Custer and Communications Intern Keran Shao assisted with writing and research for this report.