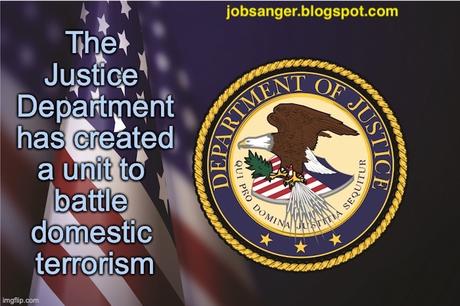 A few days ago, the Justice Department announced creation of a new Domestic Terrorism unit. This was badly needed, since domestic terrorism is more dangerous to Americans than terrorism from abroad. Will the new unit be effective?
Former assistant director for counter intelligence at the FBI, Frank Figliuzzi, says three things must happen to make the unit effective. Here is part of what he says:
The Department of Justice has a new domestic terrorism unit, a response to a threat that The Washington Post noted "has intensified dramatically in recent years." It sure has. Matthew G. Olsen, head of DOJ's National Security Division, told the Senate Judiciary Committee on Tuesday that since Spring 2020, the FBI's domestic terrorism investigative caseload has doubled. But it took a full year after the Jan. 6, 2021, attack on our U.S. Capitol for DOJ to get around to forming a unit of lawyers to deal with the kinds of threats that Jill Sanborn, the FBI's head of national security, calls "the most lethal" facing the country. . . .
If the new unit is to be a harbinger of serious efforts to detect, deter and defeat a domestic threat that FBI Director Chris Wray once said had become equal to the threat of international terror, then we need answers from DOJ to three important questions.
First, will there be an enhanced staffing level of prosecutors exclusively dedicated to domestic terrorism? Olsen told the Senate Judiciary Committee that the Justice Department previously had counterterrorism attorneys who worked both domestic and international cases and that the new unit would "augment our existing approach." Is DOJ augmenting its "approach" or is it augmenting its staff with increased numbers? If the new approach doesn't come with increased staffing, then it's not sufficient. . . .
Second, will this new unit come with any new tools in the investigative or prosecutive tool kit? More than 25 years after the bombing of the Alfred P. Murrah Federal Building in Oklahoma City by domestic terrorists, we still don't have a federal law against domestic terrorism. There are only laws against international terrorism, despite calls from some lawmakers and even the FBI Agents Association for domestic terrorism to be crime. Something called a "terrorism enhancement" permits prosecutors to ask for increased sentences for an underlying crime — say trespass or assault — if it's connected to domestic terrorism, and Wray has testified that the violence at the Capitol was domestic terrorism, yet DOJ isn't even asking for enhanced sentences against Jan. 6 defendants. At Tuesday's hearing, Senators vented their frustration that available enhancements aren't being requested in the Capitol cases. If the new unit doesn't come with a willingness to call political, anti-government violence "terrorism," then what's the point?
Third, will the new unit be engaged with implementing the White House national domestic terrorism strategy? Released in June 2021, with great fanfare, the strategy to combat the domestic threat was a mile wide but an inch deep. It spoke of enhanced government and law enforcement partnerships with social media platforms, battling disinformation by teaching Americans to be more savvy consumers of information, and it promised to at least look at the need for a domestic terrorism law. So far, we've heard nothing but crickets on any of these initiatives.
Prosecuting domestic terrorism after it's already happened is like cleaning up the wreckage after a train derailment — it must be done, but the carnage has already occurred. That's why new proactive investigative techniques, the kind lawfully permitted in properly predicated international terrorism investigations — informant development, electronic surveillance, undercover agents — should come with the new DOJ unit. The unit should also have staff dedicated to helping lead a whole-of-society approach to mitigating the threat by supporting implementation of President Joe Biden's strategy. Let's get it right this time. Before our train goes off the rails.