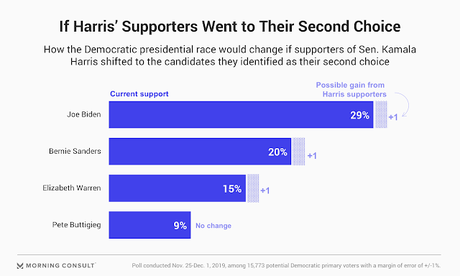 Senator Kamala Harris dropped out of the race for the Democratic presidential nomination last week. Her support had dwindled and she was having trouble raising enough money to continue. The question now is how is that going to change the presidential race. Who will benefit from her exit?
If this Morning Consult Poll (done between November 25th and December 1st of 15,773 likely Democratic primary voters, with a 1 point margin of error) is correct, nothing will change.
When the poll asked Harris supporters (at 5% when she dropped out) who was their second choice, there was no clear favorite among them. About 22% said Joe Biden, while 21% said Warren and 14% said Sanders. If those people actually went to support those candidates, it would result in a 1 point boost for Biden, Warren, and Sanders, and no change for Buttigieg.
In other words, the race would look just like it does now among the four leading candidates.