People have been trying for a long time to get me excited about the combination of technology and being in a restaurant. Why, here's the guy who started Atari and Chuck E. Cheese, whom Leonardo DiCaprio may portray in a movie, whom Newsweek elected one of the 50 Men Who Changed America, who has been inducted into both the Consumer Electronics Association and Video Game Halls of Fame, and even he is struggling to make me think I want tech with my dining:
Hm.
Maybe.
Then a friend of mine sent this blog yelling about how bad menus are.
And the blogger, Dave McClure, sure gets you to thinking. Here's a list of problems he thinks better menus (and the technology surrounding menu-improvement) can fix:
Here are a few frequent problems i have when i sit down for a meal:

• too many items to choose from, many of which i don't understand

• no/few pictures (too small, poor quality), don't know what i'm ordering

• they don't know what i like; i can't remember what i got b4 (good/bad)

• have any of my friends eaten here? do they like/hate some dishes?

• can't get waiter's attention, 3x times or more (ordering, refills, payment)

• places i visit frequently should give discounts to come back regularly

• places i visit infrequently should give discounts to try them 1x or 2x

• while waiting/eating i might enjoy music, movies, games, other media
And he has a lot of suggestions, some obvious, some not, some new, some familiar.
I think we all agree that social media and digital technology has changed almost every aspect of our lives, and even if we were skeptical entering into our relationship with our smart phone or Facebook page, we quickly saw how it made life better.
It hasn't been figured out, quite, but it will be.
But here's a question I have (which I sort of love): Is the Act of Eating such an ancient instinct that we can't hardly understand it, much less predict how we'll act on any given night? That's the whole reason we have a huge, wide world of types of places to eat. We're performing two very sensitive operations when we go out to eat—we're parting with money hoping we can trust we'll get a fair return, which advertisers learned a long time ago becomes an emotional decision almost immediately; and we're sticking stuff into our bodies, just poking it in there and chewing on it and forming a bolus and trusting it will make us stronger, not weaker or sicker, and we've managed to scramble our brains enough that we're not squeamish about doing it in front of people or watching others do it. That's heavy stuff.
And then you wanna talk about playing a video game after I stab at a computer to get an anonymous runner to bring me a burger that matches the onscreen photo. And a boop-boop-boop machine that identifies me as a regular even if maybe I don't want to be identified tonight, and tells me that my old friend Evan recommends a turkey burger—hm.
I'm dubious. Or at least curious to see how the Dave McClures and Nolan Bushnells of the world will bring me, a middle-of-the-pack adopter, into the braver part of the new menu world.
I still want a (admittedly rather artificial) relationship with a server in a nicer restaurant to reassure me, to help me feel good about my choices. In a QSR setting, I still want at least the appearance that the restaurant cares about the food I'm ordering—exposing the bustle just slightly, there in the back, reassures me that there are competent workers taking steps to make safe food I'll be happy I traded money for.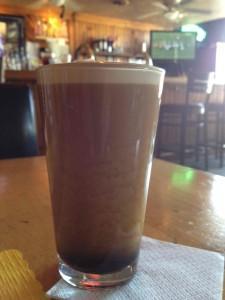 I sit down. A server who knows me whom I trust doesn't even bring me a menu, she just sets what I want in front of me. Now, how can we create that effect digitally? And what if I've never been here? Is there a way to maintain a cozy relationship with a server and a simple menu (this place has the simplest of menus) with technology? Probably.
But yeah. I'll agree. The clunky passing out of the menus, collecting of the menus, storing of the menus. The many menus that commit the sins McClure mentions, or just fold out too wide and make me bump the guys next to me or overwhelm me with choice and no help making a decision.
Yeah. Fix that. Hey, technology. If you're almost done transforming the entertainment industry, restaurant industry could use a little more help.
Oh, people have made tweaks and clever improvements. And some menus are simply beautiful work that will always be welcome in the world.
And there are ever-more-clever ways to combine technology and traditional menus: for example, one of the nicest visits I had as a I wound through the National Restaurant Association Show last year was with MustHaveMenus.com entrepreneur Jim Williams. His company is making it easy for smaller restaurants to have good-looking, presumably effective menus that the bloggers at Art of the Menu might approve of. But it's a web-based menu design site that doesn't limit you the way desktop software does as it ages.
Which sounds like a pretty solid deal until that Nolan Bushnell character succeeds in making me comfortable with an entirely onscreen menu, and that blogger Dave McClure helps bring into the world something that allows social media and digital memory to make my experience more customized.
Meantime, I'll be down the street at the pub that isn't all that different from pubs were four hundred years ago, where the server I've grown to trust doesn't even bother handing me a menu. And the entertainment while waiting is talking to my friends.