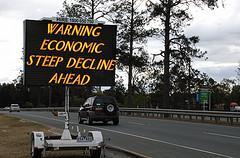 Economic Steep Decline Ahead (Photo credit: Leonard John Matthews)
_
The past 72 hours have been eventful in the British political scene. Not only have the Tories made an historic pledge to hold a referendum on our country's membership of the European Union by 2017;  a parliamentary motion backing Votes at 16 was passed by an impressive 2 to 1 margin (Stephen Williams MP is confident that he will be able to pass legislation by the end of the year); Labour has announced radical plans to improve health and social care services; A-level qualifications are to be overhauled; and the long overdue Bill legalising same-sex marriage has been published. These are all important topics that I would wish to discuss at more length at a later point, for today the economy is the pressing issue.
This morning, the Office for National Statistics released its preliminary GDP figures for the last quarter of 2012.  The news is dismal: Britain's economy declined by a further 0.3%, meaning that we are three months away from entering a triple-dip recession. Yes, our nation's recovery from the 2008 financial crisis is even slower than that of the Great Depression of the 1930s.
For as long as I have been politically aware in any meaningful sense (though I do recall being about 7 years old and remarking to a friend that I preferred Tony Blair to the then Tory leader Michael Howard because Blair "wants to spend more money on schools and hospitals". What distant, prosperous times!) the economy has been stagnant or contracting, with the exception of the short-lived recovery left behind by Gordon Brown. We have endured almost six years of falling living standards and prosperity, with the Coalition Government being responsible for the latter two recessions. I barely remember a time when our public services were secure, when unemployment wasn't so widespread, and when we had a popular Chancellor of the Exchequer.
Nick Clegg, the Liberal Democrat leader, conceded yesterday that his government had cut capital spending too quickly. Nationwide, Keynesian economists all yelled at their television screens, asking why the hell he didn't recognize the fact at the time. But any relief one might have felt, picturing the Coalition abandoning plan A for the disaster that it is, was quickly banished. For on the same day, the real second most important man in the Government, George Osborne, told the World Economic Forum that "cuts must continue". Even the monetarist IMF, as I have written about before, disagrees with Osborne on this, having urged a stimulus package should the economy fail to grow in 2012.
There is no contradiction between the two men's public views yet, as Nick Clegg did not urge more capital investment in the present. But rather than appearing confident and capable, the Coalition's economic team look increasingly incompetent the longer they maintain this disastrous economic policy. Nevertheless, we must try to live in hope, so I outline my Five Point Plan for the Coalition to implement Plan B in a way that is semi-compatible with their right-wing ideology. They will not listen, but here is my constructive offering combining sensible policies and perks for the Tories' friends:
Cut National Insurance by 1p for employers and employees, and instate a 10p Income Tax band between £9,000 and £12,500. This is a major tax break for their corporate pals, and it is a several hundred pound tax break for almost every earner. The tax savings will directly boost demand and thus investment,
Provide state finance for a mass home building programme. As construction is the most effective stimulus that can be provided, imagine the potential benefits of the state using its low borrowing costs to bankroll investments by parasitic landlords and property developers.
Expand HS2. I am aware that the Tories hate public transport, but if they could build railways through Labour constituencies it would help in keeping the plebs off the privatised roads.
Invest more in the sciences. If the state then finds out it is the owner of the patent of a perpetual motion machine, it can then sell it at a reduced cost.
State-funded chauffeurs for everybody paying the 45p tax rate. Just go down to the job centre, grab an oik and give it a suit and car keys, then pay it the minimum wage to act as a doormat for the upper class. Everybody wins!
Alternatively, we could ask the Government to resign and allow us to elect a government that knows what its doing. It's your call, Messrs Cameron, Clegg and Osborne.