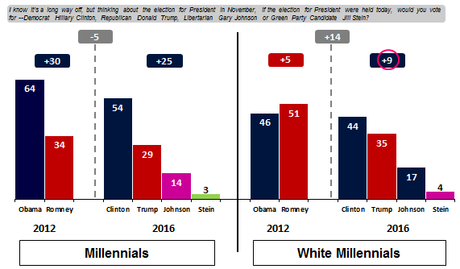 There has been a lot of talk in the media about millennials, and the opinion of the talking heads at the networks seems to be that Hillary Clinton is in trouble with millennials -- and that young voters may cost her the election because they aren't as enthusiastic about her as they were about Barack Obama.
I'm not buying into that theory, and a new survey of millennials by Democracy Corps seems to back me up. It is true that Clinton currently has 10 points less among millennials than Obama did at this point in 2012 (54% to 64%). But those votes are not going to Donald Trump. He is also down from what Romney had among millennials in 2012 (34% to 29%).
Perhaps most important is the white vote among millennials. In 2012, Romney carried white millennials over Obama by 51% to 46%. Trump is not even close to doing that against Clinton. He trails Clinton by 9 points (44% to 35%). That means Trump is doing 16 points worse than Romney did.
And I believe even more millennials will come home to the Democratic Party and vote for Clinton by November 8th. She may not be the first choice of millennials, but they abhor Donald Trump.