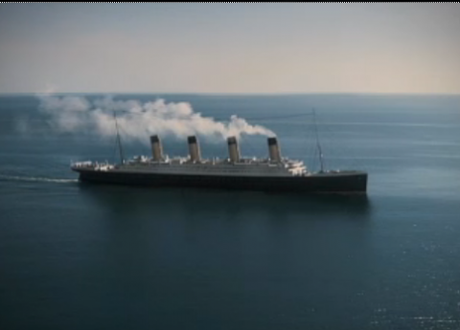 ITV's Titanic.
UK broadcaster ITV has sunk £11 million into Titanic, a four-episode retelling of doomed cruise liner's voyage by Downton Abbey writer Julian Fellowes. ITV is clearly hoping that it can ride this wave of early 19th century nostalgia, as well as the excitement around the 100th anniversary of the disaster, to a big pay off.
So far, it might be working: The show premiered on Sunday, March 25, to an audience of more than 7 million, and the series has already pre-sold in 86 countries.
But that was before the critics got a hold of it – so far, the series hasn't been deemed a titanic failure, but neither is it winning the plaudits that they showered on Downton, to which it is inevitably compared. What's the deal?
Puntastic Upstairs Downstairs Abbey on Sea! The show was almost immediately dubbed "Downton-on-Sea" by both reviewers and viewers, while on Twitter, it acquired the hashtag #Drownton. And that doesn't bode well for the series' critical reception, indicating that perhaps UK audiences are at last experiencing costume drama fatigue. Though the series will likely be a commericial success, given that it has pre-sold to 86 countries, it may just kill off any further interest in the period drama for the foreseeable future. "A last, overpriced hurrah for costume drama? Or a sign that this Downton-fuelled genre is only just moving into its heyday?" asked Viv Groskop in the Guardian. "Place your bets."
The last of the four episodes will air on April 15, to coincide with the 100th anniversary of the sinking of the ship on its maiden voyage from Southampton to New York City.
Class war waged at sea.  "Fellowes' essential preoccupation remains the same…the fine gradations of social distinction," wrote Tom Sutcliffe in the Independent, noting that Fellowes observes the usual "combination of punctilious details of etiquette and flagrantly implausible breaches of it." But that might not be enough to imbue the series with the same kind of drama we've come to expect from Mr. Downton: In the Huffington Post Richard Berry complained that Fellowes thinks that "the mere proximity of people from different social classes is enough to make a decent drama. Forget character, story, emotion – as long as one person has a posher accent than another the audience is bound to be enthralled."
No second series? Quipped Fellowes: "It would have to be directed by Jacques Cousteau."
Ship sunk too soon? As Sarah Crompton explained in the Telegraph, "the problem any writer faces in telling a story as famous as that of the Titanic is how to create suspense and interest when the audience already knows what happens." Fellowes's solution to this is to sink the ship every week, a tactic that did not meet with universal approval. "Unprepared viewers may have been startled to find that we seemed to be barely out of Southampton in screen time before the iceberg struck," Sutcliffe noted in the Independent. The audience reaction was captured in a tweet from @ailsas: "The orchestra have started playing. Feel like I've skipped ahead to the end of the movie #Titanic #Drownton" while Independent reader Michael Horne proposed a solution to the disorientation: "I can feel a fan-edit brewing… where everything is put in the right order!"
Too many characters spoil the plot? Berry complained in the Huffington Post that there were so many characters introduced in this first episode that "none of them had the screen time to rise above the level of stereotype." Crompton agreed in the Telegraph, blaming the added pressure of time: "[T]he characters were never given time to develop, partly because the ship was speeding too fast towards its date with fate." The problem was summed up on Twitter by @fleetstreetfox: "The story's weak, too many characters formulaic, plot's rushed, acting dire, accents worse. I don't care who lives or dies. #drownton"
Fellowes, a self-professed "Titanorak", wants set the record straight and depict what really happened on the doomed example of human hubris. But Sarah Crompton in the Telegraph accused Fellowes of "underlining the entire script in such deep blue hindsight that we feel we too are drowning."
Outlook improves as the voyage continues? Crompton of the Telegraph called the first episode "a damp squib", but assured us that the series gets better in the second episode. Not everyone is convinced: Huffington Post's Berry feared that "subsequent episodes are going to introduce yet more characters, rather than putting flesh on the bones of the ones we already have."