Will & Grace creators used vodka and cigarettes to recruit Debra Messing for pilot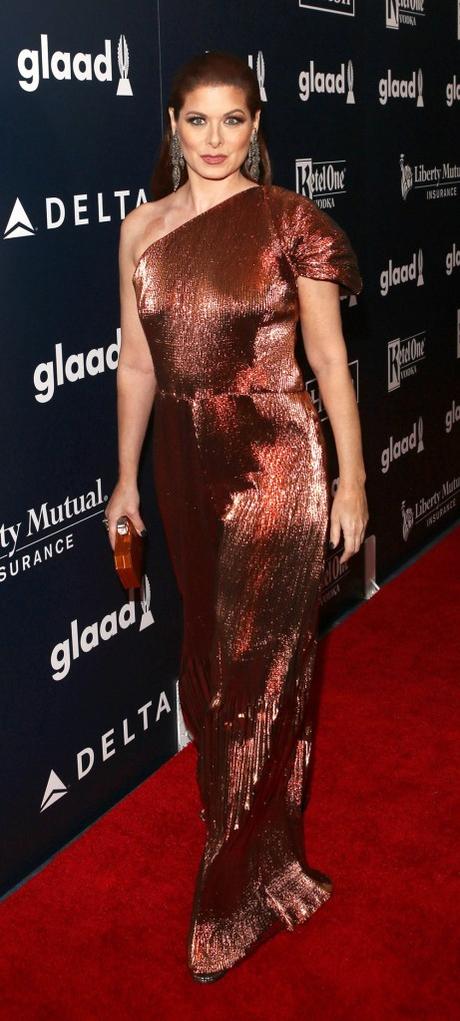 Embed from Getty Images
As you've probably heard, NBC's beloved sitcom Will and Grace is returning to the network after 11 years for a 12-episode run premiering on September 28. The show was groundbreaking and its creators, Max Mutchnick and David Kohan, were deservedly celebrated at this year's Logo Trailblazer Honors. Singer Cyndi Lapuer, choreographer Alvin Ailey and LGBTQ activist Cleve Jones, creator of the AIDS Quilt, were also honored in the ceremony. (It aired on VH-1 and Logo on Friday night, right after the finale of RuPaul's Drag Race).
Debra Messing was on hand at New York's Cathedral of St. John the Divine to introduce the honorees. At the event, Debra told Access Hollywood that reuniting with co-stars Eric McCormack, Megan Mullally and Sean Hayes was a welcome reunion and everyone fell back into their roles easily. She notes that it was as if "no time had passed," adding, "We are still goofy and inappropriate with each other. We still grope each other and it's all okay."
In their speech at the ceremony Max ribbed his star, recalling, "To think it was almost 20 years ago that Dave and I showed up at your apartment with two packs of Marlboro Lights and a bottle of Ketel One, and we decided to beg you to do a pilot we had just written." David jumped on the bandwagon, adding, "Our thinking was that if you were drunk and coughing, you physically could not say no."
Max went on to say, "Debra Messing, you are the heart and soul of our show. You are the reason we love coming to work." The actress was then asked to cover her ears, allowing David to add, "Okay, she still doesn't realize she's in an ensemble, so she needs this." Max then joked, "We would've said the same thing about Megan and Sean and Eric if they had come."
With the good-natured joshing out of the way, Max and David went on to discuss the importance of Will and Grace in terms of the representation of gay characters in the media. They said the show is just as relevant today as it was when it debuted back in 1997.
"The country seems more polarized than ever, with one half wanting to reduce the other half to a series of pejoratives," Kohan told the star-studded crowd. "And the scariest thing about this is that once you start labeling people and putting them into categories, it becomes easier to marginalize them and ignore their humanity. And more than any other medium, television has the power to represent people and transcend stereotypes."
"We wanted to present characters who were fully realized and multifaceted, who were like people we knew or wanted to know," Mutchnick added. "Who Will and Jack slept with was not their defining qualities," Kohan continued. "They were defined by their humanity. Our goal was not to show what made gay characters different, but rather what made them universal."
[From New Now Next]
Logo Trailblazer Honors
As for how the show will tell its stories in our current turbulent political times, Max told The Hollywood Reporter,
It's not an opportunity to preach. Anyone who needs to be preached to is not going to be listening, so that's not the purpose. And I don't think it's helpful, quite frankly, I really don't. If people are going to be entrenched in their positions, then telling them how to think is not going to change the way they think.
I'm inspired by what Max and David had to say, and I'm excited for the return of Will and Grace. I hope these two can make good on their promise and further positive representations of LBGTQ characters and stories in the media.
Embed from Getty Images
Embed from Getty Images
Embed from Getty Images
Photos: Getty Images, WENN.com
Source: Will & Grace creators used vodka and cigarettes to recruit Debra Messing for pilot
8 total views, 8 views today