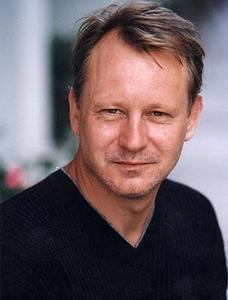 Stellan Skarsgård
We agree with EOnline that having Alexander Skarsgård's Stellan Skarsgård on True Blood, would be awesome, but it doesn't seem like it's meant to be.
Stellan, of course is an actor famous in his own right and has been seen in many films including Good Will Hunting, Pirates of the Caribbean, Angels & Demons, many Lars von Trier films and even Entourage.
Stellan told EOnline that he's been asked to be on the show, but, well, he's too busy.
"I don't have the time," he said while promoting the upcoming DVD release of his latest flick, Thor.
Good to know it's not because he doesn't appreciate his son's work. "I think it's very well done and he's great in it," Stellan said.
In fact, he wants you to know that he takes no credit for Alex's massive success. "I don't give him any advice at all, because for my kids, from the age of 16 their lives are their responsibility," he said. "If he had the feeling that it was thanks to me that he had any of his success, it would just be half a success. He owes everything to himself."
Well said, Mr. Skarsgård.
Oh, as for how busy he is, Papa Skarsgård recently wrapped The Girl With the Dragon Tattoo (more on that later!) and is currently finishing up The Avengers in the U.S. at the same time he's been traveling to Brazil to shoot a foreign film.
source: eonline.com