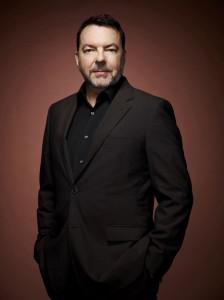 As we previously reported here,  Alan Ball has been making comments that would suggest he may be ready to leave True Blood, the hit show that he created.  In an interview with Rolling Stone, he made reference to the fact that the show could continue without him which had people speculating that he may be getting ready to pack it in.  At the Season 4 Premiere, Ball spoke to The Hollywood Reporter and was even more specific about the possibility of him leaving saying:
"Right now I'm in the middle of negotiating for a fifth season.  I don't know if I have any left in me after that. We'll see."
He went on to say that Season 4 was a very difficult season for him and while he is happy with the way it turned out, he is in need of a long vacation.  Ball says he can see the show continuing for a few more seasons but not likely 13 to correspond with the number of Charlaine Harris books. 
"I think if we did 13 seasons we'd have to address why vampires are aging.  Maybe there would be a bad batch of Tru Blood. … With the supernatural thing you can always go places storywise that you couldn't go on another show."
Ball recently signed a deal with Paramount for a dark comedy pitch with Elan Mastai.  Ball came up with the original idea and will direct, while Mastai who helped develop it, will write the screenplay. 
Source:  HollywoodReporter.com – 'True Blood' – Alan Ball Negotiating For Season 5
Photo Credit: HBO, Inc.
Kevin Winter/Getty Images