One of the best digital downloads that I have recently purchased is the book
What Would Madam Defarge Knit
? (Creations Inspired by Classic Characters).  About 20 patterns (I did not count them) are available in either the hard copy or in digital format, along with live links.  A great value for the money, since all patterns are included for one low price of $16.95.  And the links are fascinating, informative, and just plain fun.
This can be read on the inside page 
of the WWMDK book
:
What Would Madame Defarge Knit? is a new book of crafty patterns—in pre-orders February 7, 2011 from Cooperative Press—written and designed by the good people who bring you CraftLit, Cast-on, March Hare Yarns, Jen Minnis Artworks, WeaveZine and WeaveCast, Silk Road Socks, Gardiner Yarn Works, and Crochet Compulsive.
It all started back in 2007, while listening to A Tale of Two Cities on CraftLit. Not far into the book, WWMDfK? became a rallying call for t-shirts, knitting, and fun. And now—patterns!
The Wilhelmina Shawlette is the first pattern I'll be knitting from the book.  And the name Wilhelmina? It comes from here:
What would Mina, the heroine of Bram Stoker's epic novel, Dracula, wear to protect her neck from the bloodthirsty count? Chrissy Gardiner thinks that, as a practical girl, she undoubtedly would appreciate this simple, delicate wool shawlette, featuring Serendipitous Ewe's Autumn Glow vampire-inspired colorway, one in a series dyed exclusively for SandraSingh.com.
Designer: Chrissy Gardiner, Finished Measurements: 44″ wide and 22″ tall after blocking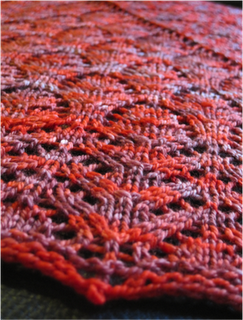 (Close up of the knitted lace pattern in the shawl)
This is the variegated Ella Rae lace merino fiber I purchased from
Aimee's Yarn Cafe
in Paradise, CA for knitting  the Wilhelmina: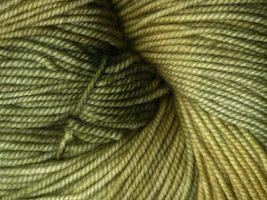 My neck will definitely be warm when I wear this, even if I
don't
need to be protected from vampires.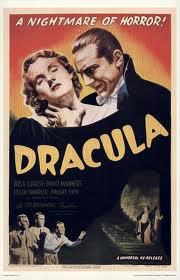 (Dracula is a book that will be read on the Craftlit podcast in the fall.  I can't wait!)