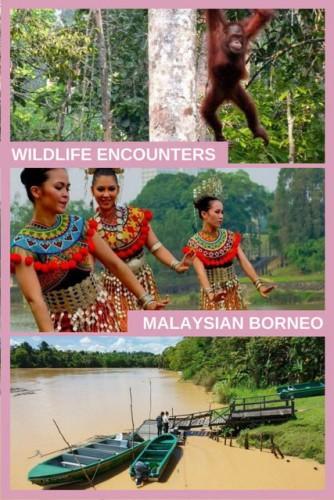 Our guide stopped in his tracks. He motioned us closer. We tiptoed through the soft sand and twisting mangroves of the Malaysian rainforest.
A wild bearded pig and half a dozen two week old striped piglets were trudging through the sand a few meters away.
The mother was oblivious to our presence, but her young babies were curious. We froze.
They pattered over on tiny hooves, sniffing the air with their pink snouts. The wild piglets stood within touching distance for a moment. Then, the breeze changed direction and they scattered into the underbrush.
Our guide, who had lived his entire life in that jungle, said he had never seen anything like it.
Of all the places we have traveled around the world, Malaysian Borneo has given us some of the most unforgettable wildlife experiences. These adorable wild piglets aren't the only creatures we saw on our travels there - we also encountered orangutans, proboscis monkeys, enormous monitor lizards, bright green snakes and much more.
If you are looking for a Southeast Asia destination that is still relatively unspoiled by tourism and overflowing with natural beauty, I would highly recommend it. It was also incredibly affordable and very easy to travel. Malaysian food was delicious too - a mixture of Indian, Chinese and ethnic Malay influences that I still crave to this day.
How to Get to Malaysian Borneo
Via Air
You can fly into Sabah via the Kota Kinabalu International Airport, which is located about 20 minutes from the city. Then, you'll need to take a taxi into the city as this is the only mode of transport, although some hotels offer shuttle bus pick up which can be arranged in advance.
There are daily flights offered from Kuala Lumpur, the capital city of Malaysia. It is also possible to fly into Sabah from China, Hong Kong, Brunei, Taipei, Japan, South Korea, Singapore, Thailand and the Philippines.
You could also fly into Kuching International Airport and once you are in Malaysian Borneo you can take flights between many of the cities including Miri, Bintulu, Sibu and Sandakan. Buses also travel between all of the main points in Malaysian Borneo.
Via Sea
You can take a ferry to Sabah from the Philippines, Indonesia and Labuan. You'll arrive at Kota Kinabalu and go through the immigration checkpoint there.
Passports and Visas
You'll need to show a valid passport when entering Malaysian Borneo - even if you are travelling between Peninsular Malaysia and Sabah and Sarawak. Most nationalities can enter without a visa and will be given up to 90 days to stay, including Canadians, British, Americans, Argentinians, French, Germans, Dutch and many others. Click here for a more detailed explanation of visas in Malaysia.
The Best Places to See Wildlife in Malaysian Borneo
Once you have made your way here, where are your best spots for getting up close with the local wildlife? Here are some of the best national parks and outdoor experiences.
Bako National Park
Lee and I celebrated my 26th birthday by hiking around Bako National Park, which is where we had the unforgettable encounter with wild bearded piglets I wrote about in the introduction to this post.
We hiked around Bako National Park with a local guide who had grown up in the village of wooden huts near the river. Having a local who knew the jungle was so incredibly valuable and it enhanced our experience greatly.
It was almost like he had a sixth sense for spotting wildlife - he was able to see animals that we would have completely missed. He noticed a snake curled around a tree from several meters away, even though it was exactly the same colour as the leaves. I would definitely recommend hiking around with a guide - they will point out so many creatures and plants that you would otherwise walk by oblivious.
This dense rainforest ecosystem in Sarawak is home to 64 species of mammals, 237 species of birds, 46 species of reptiles and 20 species of frogs - so there is a good chance you will spot some type of creature while exploring Lambir Hills. You can hike to a cool and refreshing waterfall and it feels so good to plunge in the cold water when you have been hiking in the steamy jungle.
It is possible to stay overnight in the park at wooden forest lodge chalets. They are quite basic, but they are comfortable and very affordable. If you really want to get up close with nature there is also a campsite.
Lambir Hills National Park almost became dangerous when we got lost in the jungle. Make sure that you understand where the paths are, so that you don't make the same mistake we did!
One of the most fascinating creatures you can see in Malaysian Borneo is the orangutan. These beautiful and intelligent animals are endangered, their numbers are decreasing due to hunting, the live animal trade, humans encroaching on their habitat and deforestation.
At the Semenggoh Wildlife centre you can gather on the viewing platform, gazing at the forest canopy as a buffet of fruit is laid out on a high wooden shelf. A shaggy, graceful orangutan with rust-coloured fur swings lazily through the treetops, peels a banana with its feet and eats it while staring curiously at the audience.
These semi-wild creatures are not fenced in, they are free to roam the jungle and are fed twice a day by the sanctuary workers. This protected park has been established since 1975 and it offers a safe retreat for orangutans that have been orphaned, injured or rescued from captivity.
When the orangutans are rescued, they are given medical care and then they are raised to become independent and be able to survive on their own in the wild. They learn how to swing, climb and forage for their own food. It takes around two to four years until the orangutans are able to fend for themselves and can be released.
Kinabatangan River Safari
The longest river in Sabah, the Kinabatangan emerges in the Crocker Range and travels 560km down to a mangrove swamp estuary in the Sulu Sea on the East Coast of Sabah. This gorgeous river has a unique ecosystem and is thought to be one of the most accessible and varied places to see wildlife in all of Southeast Asia.
The Kinabatangan River is a great place to encounter proboscis monkeys. Guest author Leyla describes spotting these strange creatures in her story The Redheaded Primates of the Lower Kinabatangan. These monkeys have large bulbous noses that resemble a flaccid penis and they often seen jumping and chattering in the trees. On your journey you might also see giant monitor lizards, hornbills, hawks, kingfishers, rare birdlife and even saltwater crocodiles.
A river safari is the best way to see the abundant wildlife of this rich ecosystem close up. As you float down the river you will see the local fishermen everywhere, as the river is their livelihood.
This protected area of virgin rainforest is located in the eastern region of Sabah and it is home to an incredible cast of creatures, including mouse deer, clouded leopards, Sumatran rhinos, Borneo pygmy elephants and gibbons. It is also a very popular destination for bird watchers and it is the only place where the elusive spectacled flowerpecker has been seen - one of the rarest birds in the world.
Staying in this region will give you the opportunity to experience many thrilling activities, including swimming in the river, bird watching, jungle treks, night tours and much more. To get there, head to the nearest town of Lahad Datu, then make your way to Borneo Rainforest Lodge. From here you can do guided walks through the lowland rainforest trails, night walks and drives.
Malaysian Borneo is Perfect for Nature Lovers
I've had a lot of amazing wildlife encounters on my travels, from swimming with wild dolphins in Brazil to spotting leopards on safari in Sri Lanka to feeding kangaroos in Australia.
However, Malaysian Borneo still stands out in my memory as one of my favourite places in the world for experiencing unspoilt nature up close. Getting within sniffing distance of tiny wild piglets, watching proboscis monkeys swing through the trees, seeing rare orangutans - these experiences were unforgettable.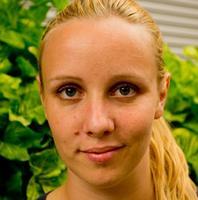 Kelly Dunning
is a Canadian freelance travel writer. She lives a nomadic lifestyle with no fixed address - working x from the road for the last 6 years with her partner Lee, a web-designer from England. They have traveled to over 45 countries and they offer travel tips, stories and inspiration on Global-Goose.com.