I seem to spend a great deal of time checking the weather forecast.  I'm not entirely sure why as the accuracy rate is never that high but I suppose it gives me a general guide.  With that in mind I'm aware that yet more rain is forecast where I live today and for the rest of the week.  So yesterday evening when there was a short spell of sunshine I seized the opportunity to spray off the area where I am planning to sow wildflowers.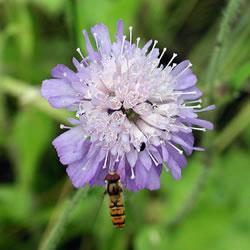 Image borrowed from Really Wild Flowers website.
There are going to be two narrow strips each 1m x 5m either side of the central path that runs the length of my garden.  I've been doing a little research and have decided to go for the Bees & Insects Meadow Mix from Really Wild Flowers.  It has 28 species of wildflowers and grasses so I'm hoping it will provide a great tapestry of colours and textures.  The area I will be seeding is a prominent position in the garden and as the seed mix is perennial it will really take a couple years to look its best so I will seed an annual mix at the same time to give me good colour next year.
Once the glyphosate weedkiller has taken effect I will rotovate the area and allow the weeds to germinate before spraying again (I'm hoping to repeat this process a couple of times).  It is really important to have got rid of all the weeds before I sow to allow the perennial seed time to germinate and establish itself free from competition.  I'll keep you posted on my progress.  If you've had experience of growing wildflower meadows I would love to hear about them!