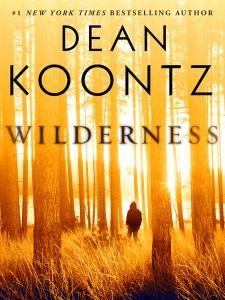 GENERAL INFORMATION
TITLE: WILDERNESS
AUTHOR: DEAN KOONTZ
PAGES: 32
PUBLISHER: HARPER
YEAR: 2013
GENRE: HORROR FICTION
I bought this e-book from www.kbo.com.
BLURB FROM THE COVER
A chilling short story prequel to Dean Koontz's forthcoming full-length novel, INNOCENCE. Addison Goodheart is only eight years old, but he already knows he is not like other people.
Addison Goodheart is a mystery even to himself. He was born in an isolated home surrounded by a deep forest, seeing no one but his mother, who barely accepts him. She is haunted by private demons and keeps many secrets – none of which she dreads more than the young son who adores her.
Only in the woods, among the wildlife, is Addison truly welcome. Only there can he be at peace. Until the day he first knows terror, the day when his life changes radically and forever.
EXTRACT
My mother claimed that in any mirror I had used, she could see my face rather than her own, my face and my singular eyes, and she could not thereafter have a mirror in the house. She shattered it and swept up the pieces without daring to look at them, because she said that somehow every shard contained a full image of my face, not merely a portion of it. She could hardly tolerate the sight of me even occasionally, and she most often looked past me or at something else altogether when we were in conversation. Consequently, seeing my countenance replicated in a multitude of jagged fragments of silver-back glass, she nearly came undone.
REVIEW
ilderness seems a fairly simple tale on the surface. A physically disfigured boy is hunted by a psychopath in creepy woods. The boy manages to outsmart his pursuer and escape. Wilderness is much deeper and darker.
Koontz does a great job of building suspense in Wilderness. We don't learn why the narrator is disfigured. We wonder why his mother bans him from the house for hours, says and weeks at a time because she can't stand to look at him. We don't understand why the psychopath is so repelled he hunts him on sight. Koontz makes you ask thousands of questions and only answers a few.
Wilderness is the prelude to Koontz's latest novel, Innocence. I didn't realize this when I bought the story. There are hints throughout Wilderness that it's part of a much bigger picture. I'll need to read Innocence to get the whole story.
I really enjoyed Wilderness. I thought the narrator was excellent although sounded much older than eight years. I'm a little miffed it was marketed as a short story when it is a prelude to a novel.
RATING