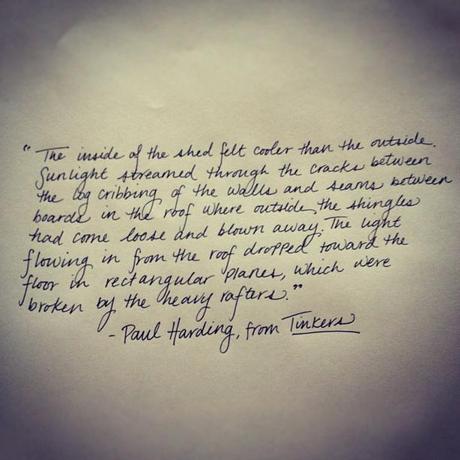 I dogeared the page of
Tinkers,
by Paul Harding, the minute I read this passage. The calm in both the scene described and the cadence of the words soothed me. I read the book this summer; someone asked me what it was about while I was reading it, and that's when I realized why I liked it so much. Because until I finished, I wasn't really sure (more after the jump).
The book is a mediation on family; on fathers and children and mothers, on how we all get along or don't, on mortality, on cycles. While the plot eventually had me totally engrossed, it's the language that drew me in; Harding writes in such flowing, lyrical prose. He also wrote passages from manuals and books he made up to tell the story, and jumps back and forth in time and place, so the melodic language is mirrored by his fluid use of setting and timing.
Tinkers
won a Pulitzer, so it's not exactly a diamond in the rough. But sometimes I'm doubly skeptical of books that win awards; perhaps it's the whole "if everyone else likes it, I won't on principle" stubborn part of me, or perhaps it's that those awards are very rarely based purely on literary merit (remember, it's not who you know, it's whom). But this time, the medal was well deserved; the book is beautiful and sad, hopeful and meditative. I highly recommend it.
And here's the quotation, in case you can't read my handwriting:
"The inside of the shed felt colder than the outside. Sunlight streamed through cracks between the log cribbing of the walls and seams between between boards in the roof where outside the shingles had come loose and blown away. The light flowing in from the roof dropped toward the floor in rectangular planes, which were broken by the heavy rafters."
Listening to:
"You Can Get It If You Really Want," by Jimmy Cliff
Favorite lines:
"Rome was not built in a day." Not exactly original lyrics, but true nonetheless.