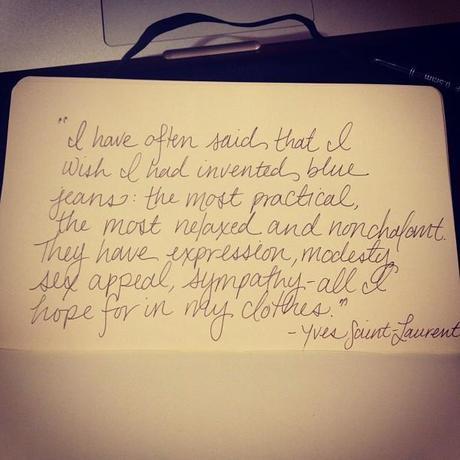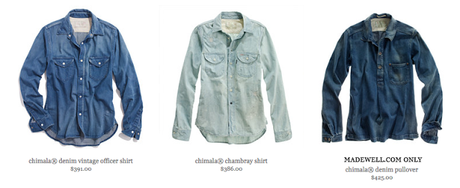 Funny, Yves, because that's pretty similar to how I feel about this Chimala denim. Available at J.Crew and Madewell via their In Good Company and Looks We Love sections respectively, they're some of the best new blues I've seen in a while (more after the jump).
It's no shocker that I'm into chambray. I have, afterall written odes to it. I don't know what it says about me that I write poetry to inanimate objects, and not only to inanimate objects but to kinds of frabric, but there you have it. I'm wearing my heart on my blog.
Seriously though, I love a good blue jean and I love a good blue jean shirt. Like our friend legendary designer Mr. Saint-Laurent, I too think they are the most practical, the most relaxed, and the sexiest piece of clothing one can own (besides pixie pants, DUH). Which is why I was so excited when I came across this whole Chimala business. Each piece is handmade by a Japanese artisan, a fact that explains the super high price tag that comes with it. I've yet to lay my hands on an actual Chimala shirt (chimala means beauty in a Native American language, if the interwebs are to be believed), so I may have to go in search of it this weekend. Stay tuned.