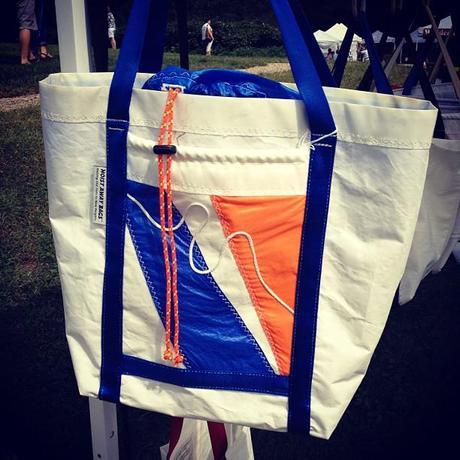 The Codman Estate in my hometown of Lincoln, MA used to be the summer home of the well-to-do Codman family in the 1700s and1800s. It has since been made a museum, and the farm next door to the stunning house was the site of many a childhood flirtation of mine. The annual fair found my little girl friends and me chasing boys around a pigsty while trying to steal their hats, the "Fall Feast" involved some dangerous accusations of crushes as we all ate our potatoes and farm-raised meat, and the pick-your-own flower garden was home to furtive hand-holding (more after the jump).
Those memories and ghosts of my youth (because I'm soooo old now) flitted by me as I walked into the annual Crafts Fair at Codman this past weekend. But whereas fifteen years ago, when a boy with a flipped hair-do wearing a soccer jersey would have caught my eye, this time I was drawn to a stall of totes.
The stall that caught my eye belonged to Hoist Away Bags, a company based in York, Maine that makes their bags out of old sails (me? like something made in Maine having to do with sailing? SHOCKING!). The bags themselves are beautiful and come tricked out with all sorts of pockets, drawstrings, and designs. But my favorite thing about them is that on the inside of each bag, be it a small pouch or larger tote, is the story of the sail that gave its life to carry around your stuff. The little story tells you what boat the sail came from, where it traveled, and how long it caught the wind for. Pretty cool, no?
When great design, sailing, and a narrative all come together in one nifty package, I'm bound to be crushing hard. Plus, the business card I received from the company was a bottle opener with the website printed on it. So the bottom line is that if Hoist Away were a boy, I'd want him to ask for my number. Or, if we're staying with the little-kid theme, hold my hand in a garden (though I hear grown-ups do that, too). But as it is, I guess I'd just be content to own one of these sweet bags.