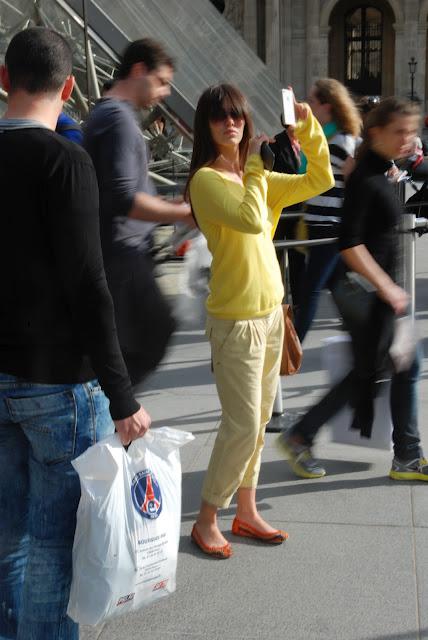 Some of the people milling around outside the Louvre were in school groups, most were tourists, and a few were French ladies out for an afternoon of art with their friends. Different languages swirled around me and the crowds suffocated me. The air was gray and humid and my feet were tired from the miles my mother and I had walked earlier in the day through that magical city. But as we walked away from the Pyramids that encased the entrance to the museum, the hot Parisian sun broke through the clouds and streamed onto the pavement. And that's when I snapped the photo above (more after the jump).
It's one of my favorite photos of people that I took while in France. I have one more I'm still hiding up my sleeve that I also love, but I'm going to hold onto it for a little while longer. Posting about Europe extends the trip a little bit for me, it allows me to linger in that wonderful week.
I was startled, I'll admit, when the woman in yellow turned to look directly at me. Most of the time I was able to take photos of people without them knowing; I could snap discreetly, my subjects none the wiser. But the woman above saw me, and turned as she was taking a photo on her phone just as I clicked the shutter. I love the intimacy of it, her skepticism of me and my camera, while she holds hers. Isn't it amazing how photographs allow us to have connections with people whom we don't, and will probably never, know?