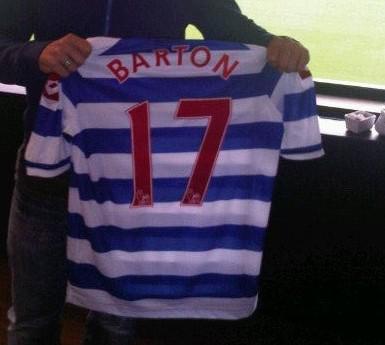 Joey Barton, QPR player. Photo credit: Joey Barton (Twitpic)
One-cap England player and self-proclaimed "best midfielder in England" Barton is no stranger to controversy and has had his run-ins with the law. He was given a suspended four-month sentence for attacking team mate Ousmane Dabo in 2007 during a spell at Manchester City and jailed for assault in 2008 while at Newcastle. In recent years, he has presented himself as a reformed character and expressed a fondness for philosophy (Nietzsche) and left-wing politics. However, on the pitch, he remains a spiky player with the capacity to wind up opposition players and fans something chronic. Just ask Arsenal's Gervinho (who got a red card on his Premiership debut after an altercation with Barton).
The transfer deal is undoubtedly a massive coup for QPR, who were taken over by Malaysian entrepreneur Tony Fernandes last week. QPR came into the season expected to struggle to survive, but the Fernandes takeover has breathed new life into the club. Fernandes and co-owner Amit Bhatia's decision to reduce match ticket prices (and refund season ticket holders) have been warmly welcomed by fans as have transfer talk linking the west London outfit with England fringe players including Luke Young and Shaun Wright-Phillips.
Barton told QPR's official website: "The ambition of the club really impressed me … The gaffer (manager Neil Warnock) is talking about adding two or three more bodies and that, combined with the potential of the club and the new owners' ambitions, bodes really well for the future." Barton's enthusiasm was echoed by Warnock, who said, "We've got a very, very good player on our hands. He's coming here to show people what he can do. He wants to get back into the England team. He's very enthusiastic. People will say one or two things about him, but they've said stuff about me in the past too, so I won't worry about that."
Barton takes Twitter by storm (again). The eye-catching transfer deal attracted the attention of the heavyweight sports reporters on Twitter. "Say what you want about his baggage but QPR have just made a real coup with signing of @joey7barton," tweeted The Mirror's Oliver Holt. "Good luck to @Joey7Barton with the next stage of his career at #qprfc. And good luck discussing Nietzsche with Neil Warnock," joked The Daily Telegraph 's Henry Winter.
Barton is a massive contradiction. "Joey Barton is a fine footballer but is he really worth the hassle?" questioned The Daily Telegraph's Tyneside-based reporter Luke Edwards, who said, "Newcastle have lost a talented player and Queens Park Rangers have signed one, but it is still difficult to decide who has made the better decision given the circus he brings with him. I doubt it is possible to sum Barton up in 15 words, but I'll give it a go. Volatile, intriguing, articulate, arrogant, stupid, rash, bold, talented, competitive, disruptive, angry, difficult, inspirational, bright and deluded. There are several contradictions there, but then Barton is a contradiction. On one hand he is a hugely talented footballer who played a big part in Newcastle's return to the Premier League. On the other he is a hugely disruptive influence, divisive in the dressing room, difficult to manage and difficult to control." Turning to Barton's unusual (for footballers) penchant for politics, Edwards said, "on the one hand he is a humble working class lad, with a leaning towards socialist politics, generous with his time and committed to helping good causes. On the other he is conceited and arrogant, referring to people he doesn't like as peasants while crowing about how rich he is."
Barton, in 15 words, is "Volatile, intriguing, articulate, arrogant, stupid, rash, bold, talented, competitive, disruptive, angry, difficult, inspirational, bright and deluded," rated Edwards.
Barton has 'passion, individuality, a peculiar sense of style.' Writing at The Independent, QPR supporter Terence Blacker regretted Barton's unpleasant "thuggishness" but wrote, "Now I see Joey's positive points. His Twitter profile, a quote from The Smiths, is 'I decree today that life is simply taking and not giving, England is mine and it owes me a living.' That, I'm pretty sure, is meant ironically – or, if not, it has the powerful virtue of honesty. Joey has passion, individuality, a peculiar sense of style, and pretty soon those qualities will start rubbing off on me. After all those years of my loyal support, it is the least QPR can do."
For QPR, Barton will wear the #17 shirt. And he could possibly take the captain's armband from Adel Taarabt.
Playmaker and nuisance. From a footballing perspective, ESPN's Soccernet blog said Barton is exactly what QPR need: "He is a talented center-midfielder, equal parts creator and defender. He profiles as a more agile Shaun Derry, and the combination of Derry in front of the defense and Barton up-field looks like a good dynamic in the middle of the pitch. Not only does his skill bring its own rewards, but his presence will force opponents to key on him, both as a play maker and as a nuisance, a role he played well at Newcastle. The biggest beneficiary initially should be Adel Taarabt, who should find himself some freedom as defenses are forced to account for Barton in the middle. Don't call him a savior – but he'll bring attitude, industry and heart to a club that's going to be fighting for its life all season."
Won't be missed by Newcastle board. Metro noted how the Newcastle board "sent him packing" with a "subtle barb – praising his play but pointedly suggesting his off-field antics were more problems than they were worth. Managing director Llambias said on the club's website: 'On behalf of everyone at Newcastle United we wish to thank Joey for his on-field contributions to the team.'"