Rob has chosen this film for the challenge and all know is I know nothing about this but I have heard it.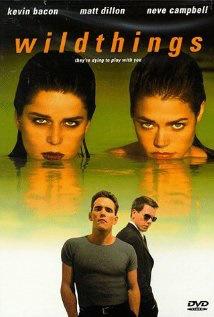 Director: John McNaughton
Writer: Stephen Peters (Screenplay)
Starring: Kevin Bacon, Matt Dillon, Neve Campbell, Theresa Russell, Denise Richards, Daphne Rubin-Vega, Robert Wagner, Bill Murray
Plot: A police detective uncovers a conspiracy behind a case involving a high-school guidance counselor when accusations of rape are made against him by two female students.
There may be spoilers the rest of the review
Verdict: Just When You Have All The Answers, They Go And Change The Question
Story: Wild Things starts with out high school counselor Sam Lombardo (Dillon) who is teaching his students about sex crimes with the help of Detectives Ray Duquette (Bacon) and Perez (Vega). Kelly van Ryan (Richards) the rich girl who has taken a shine to Sam tries her hardest to flirt with him, we also meet the handy girl Suzie (Campbell) who is the total opposite to Kelly. Kelly tries her best to seduce Sam but Sam is wise to the situation.
Kelly goes home claiming to have been raped by Sam, this leads to her mother Sandra (Russell) to go straight to the police detectives Ray and Perez. Sam is left having to fight he case with the only lawyer in the town who would take on the Van Ryan's Ken Bowden (Murray). The detectives trying to uncover the truth look into the story of Suzie who also claims to have been raped by Sam.
When the case ends up going to court the truth comes out, but the damage has been done to Sam who has lost his house and job because of the case. Sam does get a good pay off from the Van Ryan's but he still needs to start his life again. We are in for a twist when it turns out that the three have been working together to collect a big pay off of Kelly's mother but Ray isn't going to let the case go away.
Wild Things is a film that leaves you guessing on nearly every scene, you literally don't know what any of these characters are really up to until the final moments. The film really does make you think this will be corruption like case but then it turns into a con like film, it manages to mix these genres beautifully to keep both fans happy. I personally had only heard of these film and the infamous threesome scene, I didn't really know much about what it was about but I was pleasantly surprised with this one thanks Rob. (8/10)
Actor Review
Kevin Bacon: Ray Duquette is the lead detective trying to uncover the truth about whether Sam did rape these two girls, the statements giving by both girls make Sam look guilty but can he find out the truth? Ray doesn't believe everything is what it seems and starts investigating the three trying to find out the real motives behind the case. Kevin gives a solid performance but I do feel like he is the weakest of the main cast. (6/10)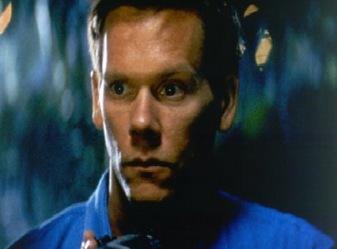 Matt Dillon: Sam Lombardo is the honest playboy high school counselor who gets accused of raping two of his students, he loses he job and ends up in court where he must prove that he is innocent. Sam has to start a new life once he is found innocent but with a healthy pay off from the Van Ryan's where will he go. When the twist comes that he has been working with the girls to con Sandra he has to keep everything together so he can get the money. Matt gives a good performance as the smooth talker. (7/10)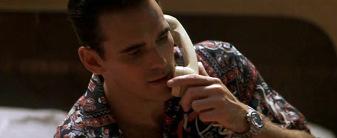 Neve Campbell: Suzie Toller is the girl from the wrong side of the tracks who also claims to have been raped by Sam, he story could come off more realistic because she kept it quiet for a year. When the three end up with the money it is her unstable side that could put everything at risk. Neve gives a god performance and something very different to what we had been expecting after the Scream film. (7/10)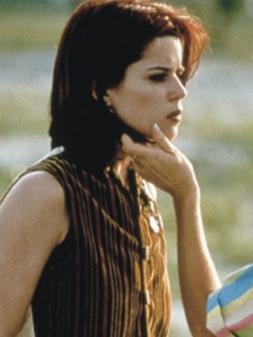 Theresa Russell: Sandra Van Ryan is the mother of Kelly who wants everything to come crashing down on Sam after he is accused of raping her daughter. Sandra ends up having to pay of Sam when the case falls through leaving her having too give him a large pay off. Theresa makes for a good generic rich woman out to protect herself and funds. (7/10)
Denise Richards: Kelly Van Ryan is the flirty seductive girl who is used to getting everything she wants but when Sam doesn't fall for her she decides to accuse him of raping, getting the whole town to turn on him. Kelly has been part of a plan to take her mothers money but how far will she end up going. Denise gives us a good performance from a time where she would be considered one of the hot talents in Hollywood. (7/10)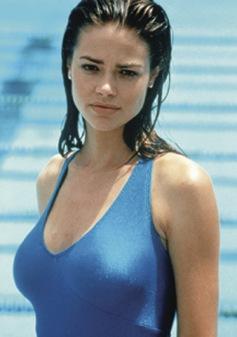 Billy Murray: Ken Bowden is the only lawyer who would take the case and he knows from the very beginning that he is innocent knowing he will win the case. Bill only has supporting role but still ends up stealing the scenes he is in. (7/10)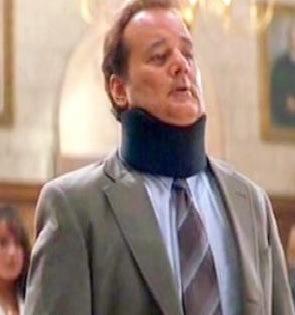 Support Cast: Wild Things has a supporting cast that mainly are information fillers explaining what is next through the court case.
Director Review: John McNaughton – John gives us a good con-artist film that really does end up keeping us guessing from start to finish. (8/10)
Crime: Wild Things has a brilliantly pulled off crime being played out but really does push the limits with how easily they did get away with it. (8/10)
Mystery: Wild Things keeps us guessing to what will happen next and who is telling the whole truth. (8/10)
Thriller: Wild Things makes you questions nearly every scene in the film as you just don't know what will happen pulling us in until the final scene. (9/10)
Settings: Wild Things uses the settings to show the different social lives our characters are coming from to make this happen. (7/10)
Suggestion: Wild Things is one to watch it will give you plenty to think about as the story unfolds making you guess who is working with who. (Watch)
Best Part: Keeping us guessing.
Worst Part: While I like the change in the story it does make the start very miss leading.
Believability: No (0/10)
Chances of Tears: No (0/10)
Chances of Sequel: There are 3 Sequels
Post Credits Scene: Early credits fill in certain gaps.
Oscar Chances: No
Box Office: $30 Million
Budget: $20 Million
Runtime: 1 Hour 48 Minutes
Tagline: They're dying to play with you.
Overall: Wild Things keeps you guessing from start to finish with its sexy stylish con artist style
Rating