Almost all routers on the market today enable their end users to change the wireless router options depending on their needs. They allow this through the wireless router web interface. The wireless router becomes linked to your computer or laptop using LAN as well as wireless connection. The particular admin page of the router commonly has a default IP i.e. 192.168.2.1. As soon as you enter this particular IP in your internet browser, it will ask you to insert default password on it. The default details are there to guard your computer network from being accessed by unwelcome individuals.
Setting up your passwords
Once you connect to the router or the network you have to keep your router password secure and you should not make it possible for others look at it. While putting the password ensure that you set some unique or mysterious security password which can't be guessed by various other end users. Such passwords are rather important for the safety of your network. It is great if you note these security passwords and maintain it at a reliable spot. Having said that, if you happen to forget about the password there are a few ways you can try to retrieve it.
The best way to restore the forgotten security password?
In positions when you have lost the security password of your wireless router, it is recommended that customers continue with the steps stated down the page;
1. Default logon information: The password and username of the wireless router are often mentioned on the device or on the top or bottom of the router. Those login details are exactly the same for all wireless routers from that producer. In the event you cannot find the router password and username it is suggested to search the router owner's manual online. This will help you get to the default account information and let you get total access to it.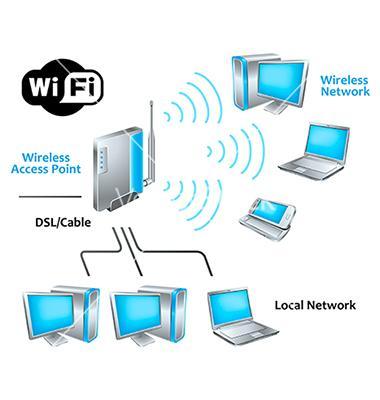 Wi-Fi network diagram with glossy hi-tech devices
Totally reset the router to default configuration settings
Hard-resetting your wireless router to default settings will make it possible to use the default account information to access your router configurations. By opting for factory reset, you'll bring back the wireless router to basic configurations and shape. Resetting the router to factory settings removes any changes including port forward, network name or wireless network password.
The best way to reset the router to default settings
Abide by these steps to totally reset your wireless router.
• Physically put your fingers to the wireless router.
• Take a closer look in the back of the wireless router to find the reset button
• That button is definitely marked with RESET
• Using a paperclip push the button and keep it pressed for 10 seconds. Release the button after this period.
• Next the router will reboot and when it completes booting it's going to be reset to its default configurations.
• The router login page can be seen from its default user options and its default password. Keep in mind to create a brand new wireless network security password and network name..
• Understand that as you have wiped out all the prior configurations for instance wireless network name and password, you'll need to set them up just as before.
The basic steps we have explained over will help you restore your router username and password. As you have seen it is not that difficult to totally reset your own router, so you have nothing to be worried about if you ever neglect the default password and username.
Having said that, it is usually good to take note of the default Ip of the wireless router, as well as the default password and username. You will never know when you'll need them for a second time, and also you will not have to reset your own router once again.