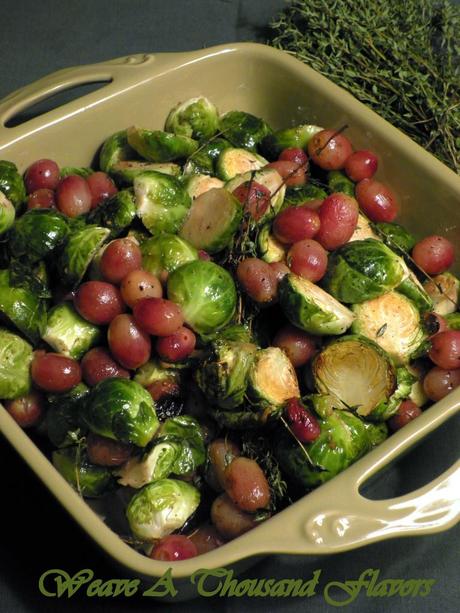 It's hard to imagine that Thanksgiving is already upon us!
Most of us have already spit & polished our menus. And even though I am just on the verge of being happily inundated, some things in life are good enough to break into a song and dance about. The fact that it is over a vegetable and that too one that almost always cooks with a slightly bitter undertone, should have your attention.
I have had brussel sprouts all the usual ways - steamed, buttered, shredded and coated in maple syrup - just anything to take away that bitterness and have the kiddies eat it too.
And for most part, its been a compromise. Well those day are over...over. 
You know how in biology we learning about symbiosis where one organism or plant life depends upon the other for its survival.....does that also sound like marriage...hmm?
Well, brussel sprouts and grapes may not depend on each other for their survival biologically speaking but in the culinary world, they do or they ought to.
I never would have believed it until I tasted these for the first time - the brussel sprouts borrows the subtle sweetness from the grapes and changes itself -  for the better.  It's a win win!
I am so glad I came across this recipe flipping pages of  Real Simple at the grocery store, remembered the salient features of the mag enough to recreate it and now it's making an appearance for everything from  holiday dinners, boring wednesday dinners to 'Guess-who's-coming-to-dinner?' dinners.
Fix this and change your brussel sprout universe forever!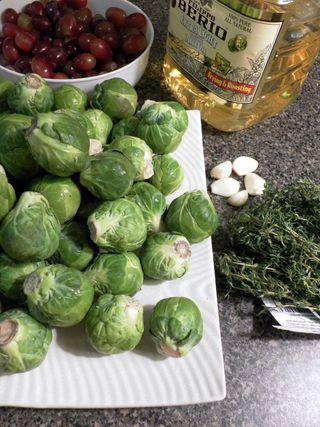 Gather the ingredients - 2 lbs brussel sprouts, 1-1/2 lbs fresh, firm, sweet red grapes, 5 sprigs fresh thyme, 5 garlic cloves, 3-1/2 tbs olive oil, 1/2 tbs salt, 1/2 tsp ground black pepper.
Pre-heat the oven to 400 deg F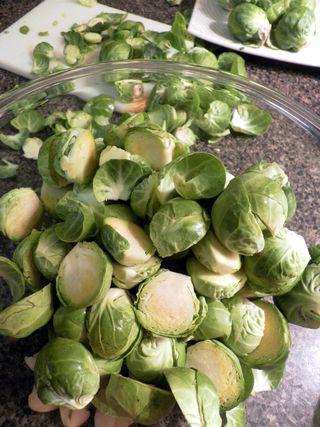 Prepare the ingredients -
Brussel sprouts - Using a sharp knife, cut away the woody knob at the bottom and discard any loose leaves that may fall away. Wash, drain and set aside.
Grapes - Separate from the stems and discard any soft, over ripe or discolored grapes. Wash, drain in a sieve and set aside.
Garlic cloves - Remove the skin and crush the cloves under a heavy pan or mallet.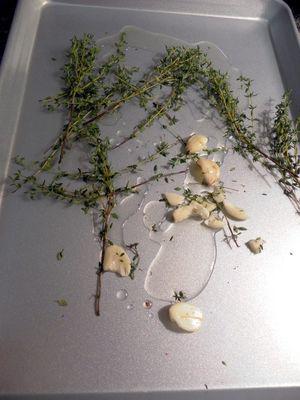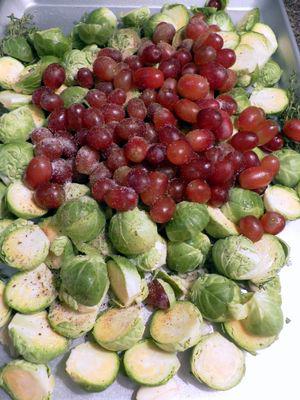 Take a large roasting pan or baking tray (approx 11" x 17") and  drizzle the olive oil at the bottom. Add the garlic, thyme sprigs followed by the brussel sprouts, grapes, salt and pepper.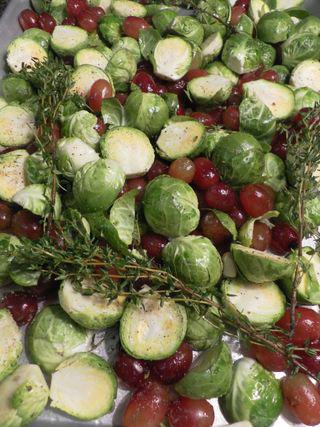 With clean and dry hands toss all the ingredients till the brussel sprouts and olive oil are thoroughly coated with the olive oil.
Roast in the pre-heated oven for about 15-20 minutes. Use a long handle spatula and toss the ingredients in the pan so they cook evenly.
Roast for another 15-20 minutes or until the brussel sprouts are crunchy tender.
Cook's note - The brussel sprouts may look somewhat raw once roasted and its only when you taste one that you realize that they are actually perfectly done. Do not overcook!
Serve immediately with any roasted meats or part of a holiday spread.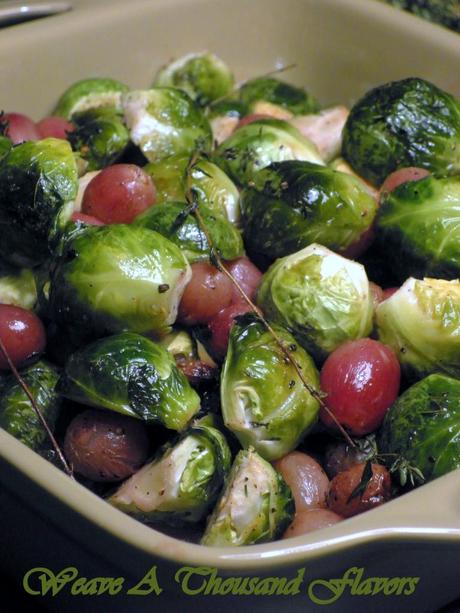 I can't wait for you to try this and tell me what you think - even all ye brussel sprout nay sayers.
I for one have been reheating portions of these for snack, lunch and everything in between. So delish are these that I have to pinch myself when I realize that it is actually healthy too!