I have a few different lists of goals. I have  a life list, which I have not put online, but it's been there for a while and I am slowly chipping things off and probably more rapidly adding things to it. It is a work in progress.
I also have a Project 52 list, which I made because of Karen's suggesting it. I also have not put this one online, as a lot of the things on my list are private, things I want to do for me. BUT. One of my goals for myself recently was to try a new recipe once a month. I have been pinning recipes, as well as just going and buying stuff and throwing it together on my own accord. I love doing that; it's like an experiment or a game. You win if it tastes good. You try again if it doesn't. I have blown my goal out of the water. So far, I have probably made a new recipe at least once a week. Here is one I made recently that I liked! They are not too sweet, which I like, but if you have a sweet tooth, you may want to add a little sugar. Also, I will probably add more cinnamon next time! These make a great breakfast muffin or a nutritious snack. They have approximately 100 calories per muffin.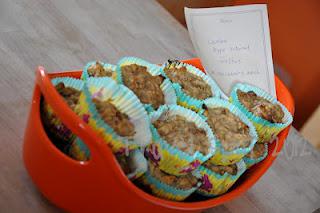 Low-fat Apple Oatmeal Muffins
Prep Time: 10 minutes / Cook Time: 20 minutes / Total Time: 30 minutes (adapted from this recipe)
Ingredients:
2 cups apple, peeled and shredded
1 1/2 cups all-purpose flour
1 cup quick oats
2/3 cup firmly packed brown sugar
1 1/2 tsp baking powder
1/2 tsp baking soda
1/2 tsp salt
1/2 tsp cinnamon
1/4 cup fat-free milk (I used unsweetened Almond milk)
2 tbsp canola oil
1 tsp vanilla extract
1 cup plain fat-free yogurt
2 egg whites (I used one whole egg)
1. Combine wet and dry ingredients separately.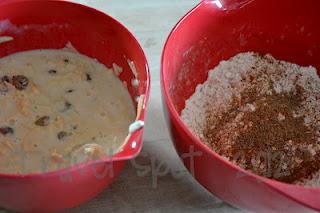 2. Add wet ingredients to dry ingredients. Stir.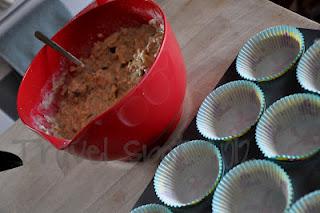 3. Put batter into lined or greased muffin tin. **NOTE: I used papers, and the muffins got stuck to the paper, so I ended up eating half muffin, half paper. I would suggest a greased tin or better papers than the ones I have!

Darn it Martha!
I only filled mine about half full, since I would rather have more smaller muffins rather than less bigger ones. The recipe suggests 12 muffins, but I made 24 (obviously, if you only make 12, they will have approximately 200 calories per muffin instead!)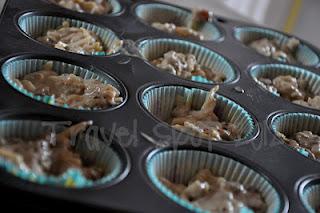 4. Bake at 400 degrees for 20 minutes.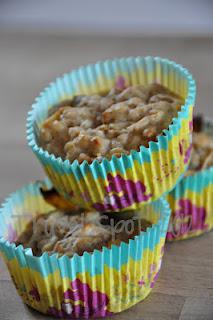 5. Eat three two one (see, I am glad I made them smaller!)
For more recipes I am thinking of trying, or to find me on Pinterest, go HERE. Also, since it is Wednesday, here's WIAW, part deux, hosted by Jenn at Peas and Crayons.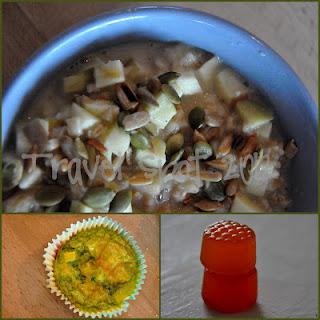 Breakfast: 
Steel Cut Oats with Apple / Pumpkin Seed / Sunflower Seed / Almond Milk
Spinach & Egg Muffin with Yellow Bell Pepper
Gummy Vitamins (yum)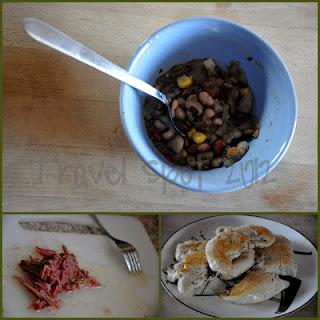 Lunch/Dinner:
Mixed Bean Soup
Corned Beef
Chicken Breast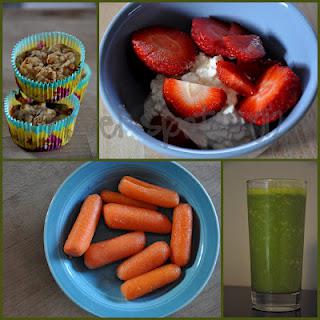 Snacks:
2 Apple Oat muffins
Strawberries with Cottage Cheese
Carrots and Hummus
Greenish Drink (Almond milk / Spinach / Frozen Peaches / Flax seed)
What I learned? I did not eat very much green stuff on this day! Also, I use the little light blue bowl a lot. Also, I need to work on my food photography. Katrina, over at Capture Your 365, suggests reading this article for some food photo tips.
Do you try new recipes often? Do you have a new favorite? Are you good at taking food photos?