Litomyšl (lee-ta-MEE-shul) is a small, quiet town with an almost untouched historical center that few people have heard of. What's worse, even fewer visit it, even though it's only a couple of hours away from Prague.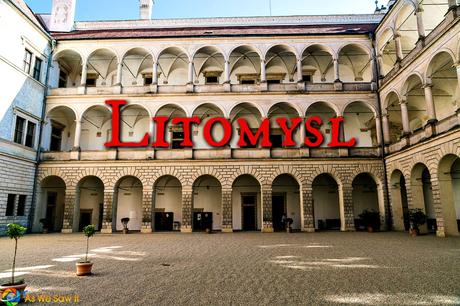 It wasn't always so, however. Medieval Litomyšl was the third most important Czech city (after Prague and Olomouc). It even earned a bishopric from Roman Emperor Charles IV in 1344. Big mistake, though. This proved to be its undoing because the Catholic stronghold was burned down by the Hussite rebellion.
<iframe width="560″ height="315″ src="https://www.youtube.com/embed/gLau39B9BT0″ frameborder="0″ allowfullscreen></iframe>
Plan to spend a day in Litomysl when driving between the Czech towns of Kutna Hora and Olomouc. It lies midway between the two, so with so much to see and do, this UNESCO site is a perfect place to stop. Even better, there is free street parking next to the castle. How convenient!
Litomysl Castle complex
Litomysl's centerpiece is undoubtedly the complex of Litomysl Castle and its neighboring brewery and gardens.
The castle is a perfectly preserved example of an Arcade Castle, a unique style that was imported from Italy in the 16th century. UNESCO gave it World Heritage status, partly because it still has "the ancillary buildings associated with an aristocratic residence of this type" and because of the High-Baroque features that were added in the 18th century.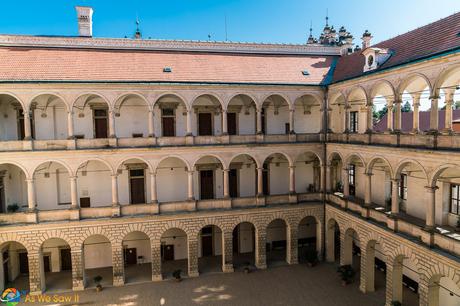 At first glance, it may look like Litomysl Castle is made of large, white bricks, but appearances can be deceiving. The castle is covered in sgraffito: designs made by etching away white plaster to reveal a darker undercoat. Every one of the 8,000 panels has a unique motif.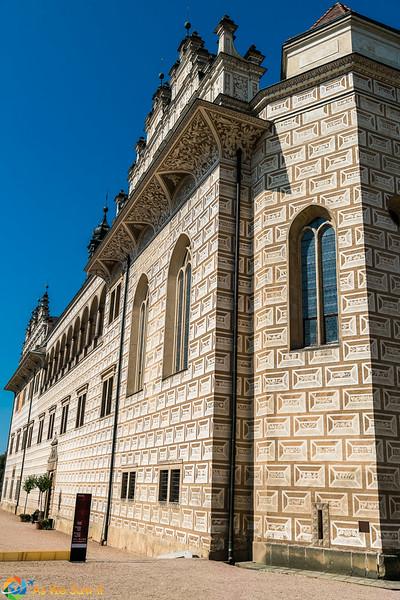 It is worth buying a ticket to tour the interior, even though the tours are in Czech language. You will be guided through 13 exquisitely furnished rooms, including a library, billiard room, historic chapel and more.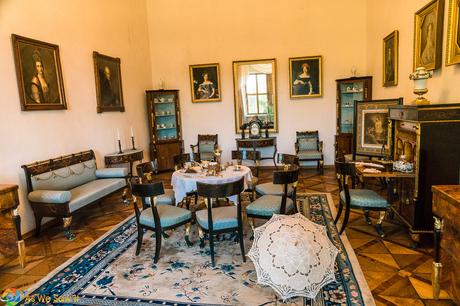 The tour also visits the castle's rare Baroque wooden theater, one of only five in the world. It was built to entertain the nobility, who wanted to perform for friends and servants. Most remarkably, everything is still intact: original auditorium, stage decorations, and stage machinery.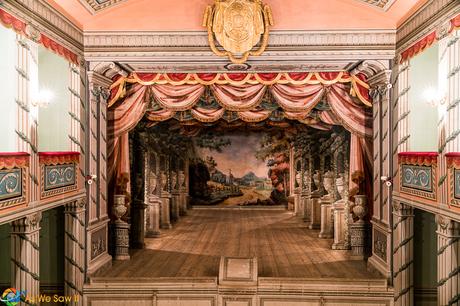 Also noteworthy is an exquisite crystal chandelier. The massive piece was created especially for the film Amadeus, and later donated to the castle.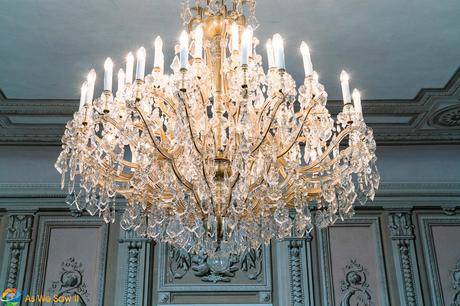 Litomysl Castle Cellars
One of the most intriguing places in Litomysl has to be the meandering vaulted cellars beneath the castle. They have been turned into an art museum, a home to the statues of one of the greatest Czech sculptors of the 20th century, Olbram Zoubek. (Zoubek was born in 1926 and spent two decades restoring the sgraffito decorations during the Communist era.)
The larger-than-life human forms are in a variety of poses, some dressed in colorful garb while others are stark naked. To be honest, we hadn't expected to enjoy the exhibit as much as we did.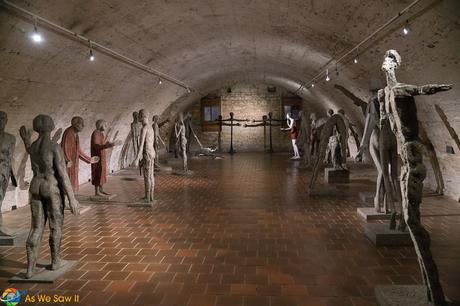 Speaking of cellars, the cellar climate is also suitable for the maturing the chateau's unique bottled wine, which is produced in limited batches by Moravian winemakers. Czech wines are rarely available outside of the country and some are made from native grape varieties, so later in the afternoon we made it a point to return to the wine shop. We ended up chatting and joking with the delightful woman behind the counter before sampling a glass of 2011 Neuburske, a white wine. (Its crisp taste was reminiscent of sauvignon blanc.)
Restaurace Maly Svet
Maly Svet ("small world") was one of two restaurants that Czech Tourism had recommended to us, just a block down the hill from the castle complex. It's one of Litomyšl's newer restaurants and, based on what we were hearing from nearby tables, seemed to be popular with the locals. We sat across the street because the restaurant and front sidewalk are so small, and unwittingly kept with the theme by having dvě malé piva (two small beers) with our food.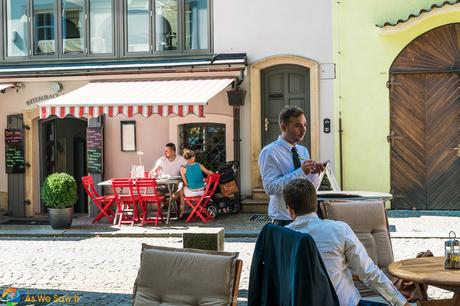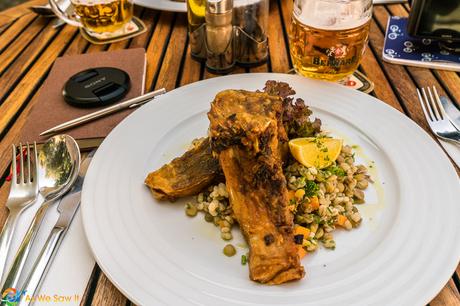 Fried Carp with Barley Salad at Maly Svet
Tip: When using hand signals in the Czech Republic, begin counting by using your thumb. Hold up your thumb and forefinger to order two of something, etc.
Literally steps across the courtyard from the castle entrance is the birthplace of Bedřich Smetana (1824-1884), possibly the most influential Czech composer in history. He is best known for his opera "The Bartered Bride" and for his symphony "My Fatherland," which was adopted for the Czech national anthem.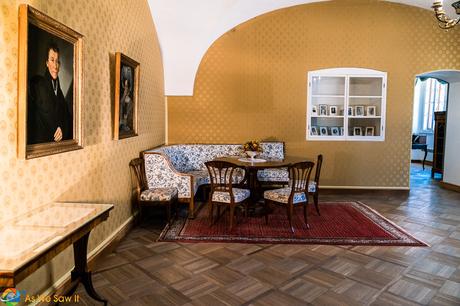 Actually, he was born in the castle brewery, where his family occupied an apartment. The four rooms in which he spent the first years of his life have been restored and are open to the public. The small apartment contains many items that the Smetanas would have seen and used, including furniture and instruments.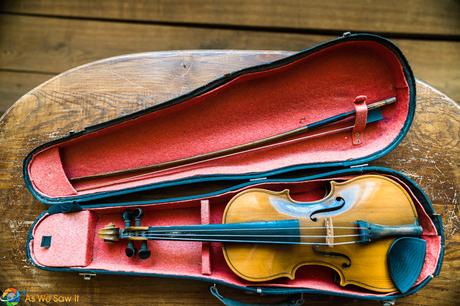 You can stroll through at your own pace and read some historical information about various items on display as his classical works play in the background.
Tip: Litomysl comes alive in mid-June during Smetana's Litomysl Opera Festival, the largest open-air classical music festival in the Czech Republic.
Piarist Church of the Discovery of the Holy Cross
Next to the Smetana Museum is the Church of the Discovery of the Holy Cross, established by a religious group whose mission was to educate poor children. The Piarists built this church in the early 1700s, along with a school and a college. Though it has suffered destruction over the years, the recently restored church is considered one of the most important baroque buildings in the region.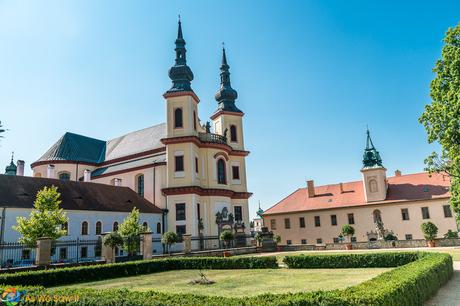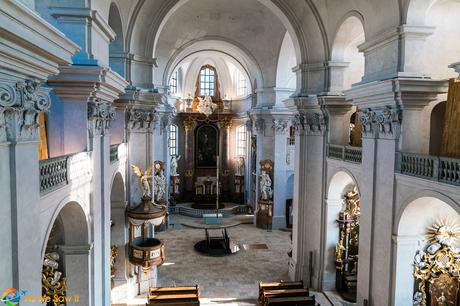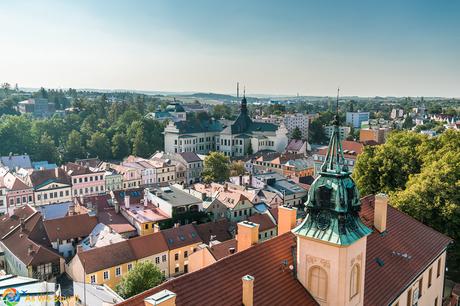 Tip: There is a very nice garden behind the church.
Portmoneum – Museum of Josef Vachal
A short walk away, the Portmoneum museum overflows with richly painted images of religious symbols, sprites, spirits and mystical emblems. Publisher and homeowner Josef Portman commissioned his artist friend Josef Váchal to paint every wall in his house with these images, hoping they would eliminate his nightmares. (We don't know if it worked.)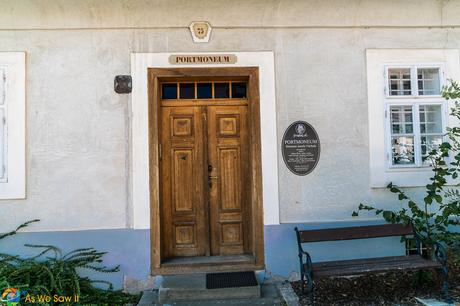 The museum involves a couple of these rooms, and even some of the furniture was painted and carved by Váchal. Thanks to an English-language handout, the interesting visit is self-guided and takes only about 20 minutes. It didn't leave us feeling spooked, but it did make us wonder what was going through their minds.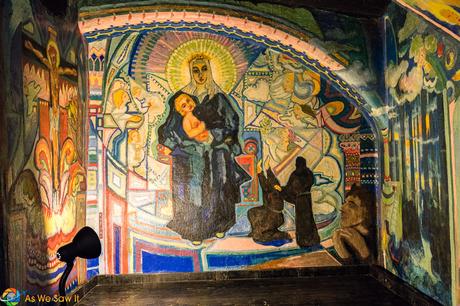 Restaurace Veselka
Czech Tourism had recommended Veselka Restaurant and Brewery for dinner, which was right near Portmoneum. Why wait to check it out? Mid-afternoon left us alone with the waitress, who spoke not a word of English but was eager to serve.
Their microbrew is Bedřichova 11ka, named after the Czech composer Bedřich Smetana. It is still served on the original ceramic saucers from the last century. What makes this beer special is that it is unpasteurized, unfiltered, and top-fermented. Delicious. You won't get that taste from a bottle, or even a tap.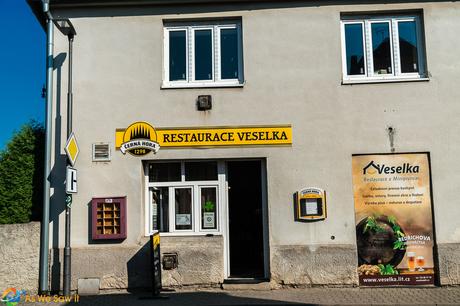 "Malé pivo," we said, so she eagerly rushed off to fill our orders while we tried to decipher the Czech dishes on the menu just for fun.
Tip: Before traveling to a country where you don't speak the language, install Google Translate on your phone. It will help you translate menus as well as text, speech, images, sites, and real-time video.
Smetana Square
Because it was once on an ancient trade route, Litomysl's 500-meter-long main square is the longest in the country. It is still the heart of the old town, lined with arcades that have survived since Renaissance days, if not before. The arcades were built so citizens could keep their feet dry on a rainy day.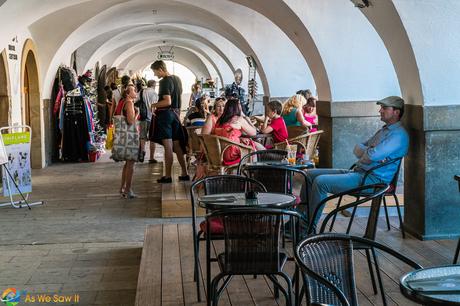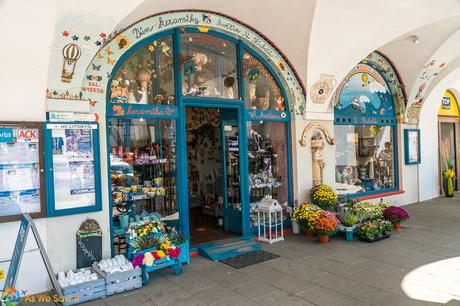 Although the original medieval buildings were destroyed by fires over the centuries, their narrow Gothic foundations survive. The buildings that now surround the square now boast facades from various eras, all with beautiful stucco work painted in a rainbow of pastel hues.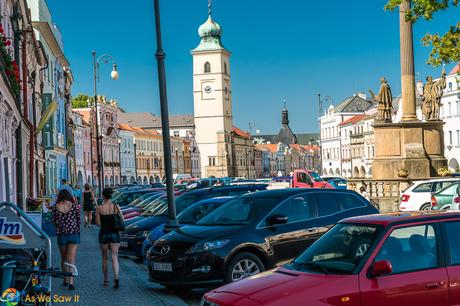 Aside from the plague column, two of the most recognizable buildings are the old town hall, which has a tower with an ornate clock face, and a house that escaped the fires and floods of the centuries with its renaissance appearance intact. Called the House of the Two Knights, it has an elegant and ornate carved stone façade above preserved stone arches. (Visitors should note that the Litomysl Tourist Information Center is in the Old Town Hall.)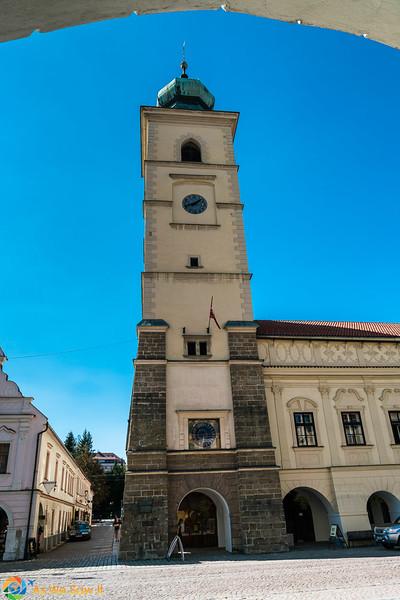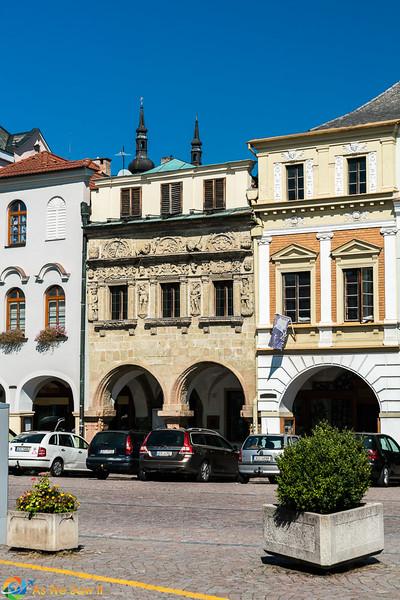 Tip: One of the most popular shops on the square is Chocco Caffe, which offers truffles in a variety of flavors, from the creative dark chocolate and Absinth to milk chocolate and walnut.
Inspired?
Get more information about Litomysl Castle on their website, including entrance fees and opening times
See our Litomysl photo gallery for more of this UNESCO site.
Further reading:
Litomysl official website
Special thanks to Czech Tourism for arranging our visits to Zamek Litomysl and Portmoneum.
Save it for later on Pinterest.
(Visited 4 times, 4 visits today)