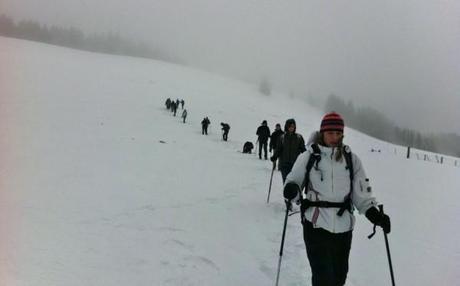 I love winter hiking.  And I think you might too.  Yes,  I know that you might have your concerns:   Isn't it cold?  Aren't you worried about getting lost?  What about avalanches?    But I hope to convince you that there is a winter hike suitable for everyone and that you might actually enjoy it.
Guided Winter Hikes – Guided winter hikes are a good introduction to winter hiking and are virtually worry free.  By choosing a winter hike organized by a local tourism board or other reputable company, a knowledgeable guide will lead your winter hike so you won't have to worry about getting lost or about avalanches since the last thing a tourist board wants is people getting caught in an avalanche.   Just dress warm, layer your clothing, bring water and some snacks, and you're all set.  Winter Hiking Tip:  Garmisch-Partenkirchen Tourist Board offers free guided winter hikes from January – March.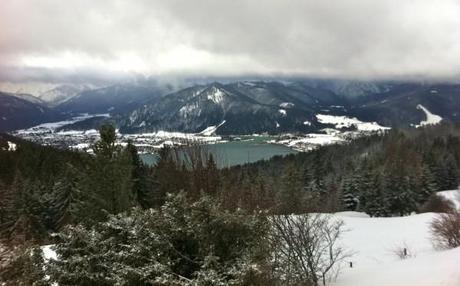 Snow covered landscapes are one of the highlights of winter hiking. View of the Tegernsee
Winter Hiking on Maintained Trails – This is a step up from a guided winter hike since you will be on your own, without a guide, but there will be a path and signs.  Besides choosing a winter hiking trail that looks interesting, you will also want to choose one suited to your ability, so note the distance, elevation gain, time and difficulty level listed for each hike.  The added bonus is that you're on your own time schedule so you can go as fast or as slow as you would like, stopping for as many photo opps to your heart's content.
Winter Hiking Tip:  You can check with the local tourist office or refer to the interactive maps available for Garmisch-Partenkirchen and Der Tegernsee or Der Bayerische Wald (Bavarian Forest – not in the German Alps, but still a fantastic place for winter hiking).  For an easy, but spectacular winter hike, I would recommend the Partnachklamm – The Winter Jewel of Garmisch-Partenkirchen (with options to extend into a more difficult hike), the steep, but easy to follow hike near the Tegernsee, in which you can make a descent by Tobogganing on Germany's Longest Toboggan Run, or a steep, but also well marked hike up to Lenngrieser Hütte.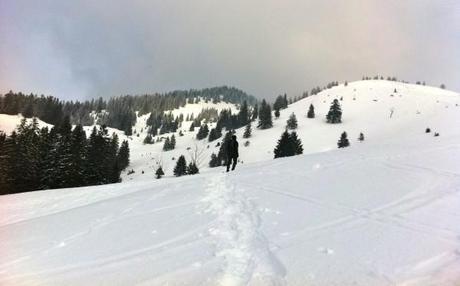 We made our own path snowshoeing on the Schreckenkopf near Bayrischzell and had the entire mountain to ourselves
Winter Hiking on Unmaintained Trails – This is the most adventurous of the winter hiking options.  The only trail will be the one created by you.  As a result this is usually the best workout since hiking in knee or even sometimes thigh deep snow is hard, slow going.  I usually choose unmaintained trails that have signs, but often signs can be hard to spot in winter: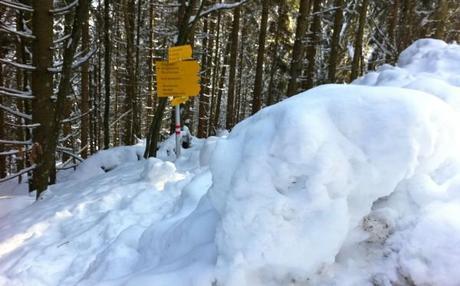 Piled up snow can often make signs difficult to see when winter hiking.
And huts are often closed: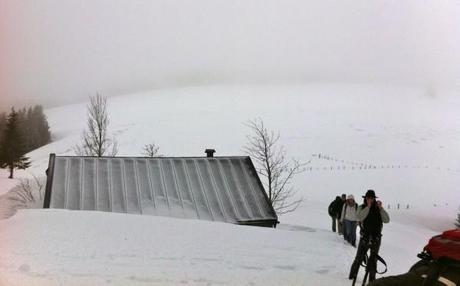 This alpine hut near the Tegernsee is closed in winter and almost buried under the snow.
So if you're looking for a winter trail with a hut, check to see if it's open before you go.   A good map is also necessary and a compass and knowing how to use it.  If it's your first time hiking on an unmaintained trail, it's a good option to start with a shorter trail, or one in which you can see your destination, such as hiking to the top of a small mountain.   The good thing about winter hiking on unmaintained trails is that you decide how steep you want the trail to be.  Straight up, or lots of zig-zags, the choice is up to you, so no complaining about how hard it is!  Your sleek, toned legs will thank you later – once they stop burning.
Winter Hiking Tip:  Always check with the local tourist office on conditions before heading out on an unmaintained trail, since avalanches may be a concern.
So what do you think?  Have I convinced you to give winter hiking a try?  Which type of winter hiking is more your style?