Because it's easily the most badass competition in the city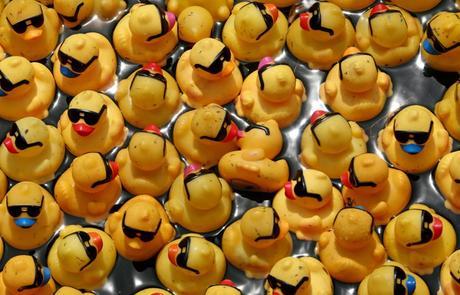 Photo Credit: Youtube
Tomorrow morning at 10am, 50,000 rubber ducks are leaving the bathtub and diving into the Chicago River for a splashy race to the finish line at the 11th annual Windy City Rubber Ducky Derby.
If you're on board to check out the cutest things to ever float in the Chicago River, make your way to The Wrigley Building at 400 North Michigan Avenue where you can enjoy fun activities and root for your favorite rubber duck to win the title. Take a stroll down the riverwalk to see them swim by. If you work in the Loop and can't make it, try to catch it from your office window. You won't miss the massive yellow sea of duckies passing through the city!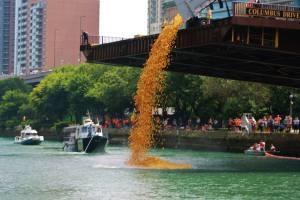 The Launching of the Duckies
This annual race will put smiles on faces all around because the proceeds are in support of Special Olympics Illinois. Attendees and participants can feel good that they're helping others achieve their dreams.
Think you've got what it takes to race a winning rubber ducky? You can adopt your own. One duck is $5, a Quack Pack of 6 ducks is $25, a Flock of 24 ducks is $100, and if you really want to win, a Diamond Duck Pack gets you 240 ducks for $1,000.
No competition is complete without awesome prizes. Offered up this year are a 2016 Chevy Malibu, an all-inclusive three-night vacation to Cancun, a family pack of tickets to exciting things like Brookfield Zoo and a Chicago Wolves game, a gift card package to experience the best Rosemont establishments, and tickets to the 2016 NASCAR Sprint Cup Race.
A charitable cause? Luxurious prizes? More rubber ducks than you'll ever see in your lifetime? Sounds like a day well-spent. Check out their website to learn more about the race.