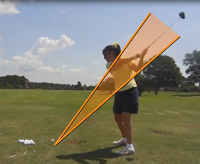 Have you been pushing/pulling/chunking your golf shots?
Are you out of sync?
If you are nodding your head in agreement, and, if you are starting a list with your own issues, the next question comes as no surprise...
When was the last time you took a lesson from a qualified professional golf instructor?
Chances are you can't remember but, if you can, you probably came away with a much stronger game. I know I did!
I knew something was amiss with my golf swing; although my ball contact is good, my shots were inconsistent - left, right, left, right...I was playing military golf!
With the latest golf technology at their fingertips, PGA Instructors can identify, show you your flaws and help you to correct them. You will also be able to view the lesson online afterward so, when you hit the driving range, you will remember what you need to practice.
I recently received a lesson from Dale Ketola, PGA, Director of Instruction at the brand, new Grande Dunes Golf Performance Center. Dale has all of the latest technology and my mouth was watering just thinking about using that V1 Software, Flightscope...Focus Band...
Below is a video of my golf swing using an 8-iron. I will place the swing video using my driver in next week's blog but, suffice it to say, Dale had only good things to say about it.

If you cannot view my golf swing video on this blog, click here: IRON SWING 1:

https://youtu.be/hN_0Ab_0Ow8

I was able to view my swing and Dale compared me with Paula Creamer (and with a similar outfit!) showed me what I was doing wrong and how to correct it right on the screen.
If you are guilty of relying on your husband (or buddies) at the driving range to help when you have a problem, "Hey, take a look at me and see what I'm doing wrong", stop NOW and take one of these lessons!
I am currently working on correcting these flaws which have quietly crept into my golf swing:
1. Head in front of the ball. 2. Open stance - Turning my body to look at my target.
After my lesson with Dale, Barry and I played nine holes at Myrtlewood Pinehills golf course and, guess what! I scored nine shots lower than the previous week...and without even having a chance to practice what I learned!
Thanks to Dale Ketola and the Grande Dunes Golf Performance Center for the instruction. After I practice eradicating the swing flaws shown to me, I will be back for another lesson. I hope to try the Focus Band which can tell me my emotional state while I am striking the ball - that should turn up all kinds of issues!
Contact Dale Ketola at the Grande Dunes Golf Performance Center:  EMAIL: [email protected] PHONE: 843-833-3332 FACEBOOK: Grande Dunes Golf Performance Center
Do your golf lessons include visualization with the V1 Software? What other technology do you use to help eradicate swing flaws? Tell us below on our Golf for Beginners blog and tag on Twitter @Golf4Beginners.