Podcast: Play in new window | Download
I've been playing singles this summer and I truly love it! Sure, I may not win much. Or at all. But singles does so much to improve my game that I think it's worth it. And I think you should be playing singles too. In this episode of Tennis Quick Tips, I'll give you five really great reasons to play tennis singles - reasons that I hope will inspire you to get out there on the court and play all by yourself! You can listen to this episode by clicking on the media player above or by listening in with your favorite podcast app. You can also subscribe in iTunes by clicking on this link: tennisfixation.com/itunes.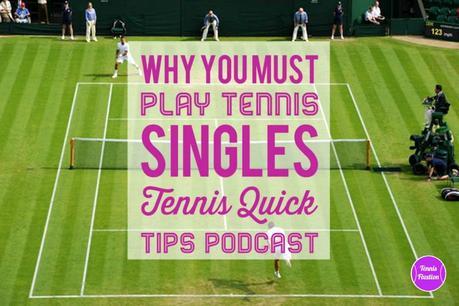 SHOW NOTES
I had a lot of fun playing for a USTA team this summer. This was a new team for me and I only played singles for them. This particular league, for the summer, plays two lines of singles and three lines of doubles. On this team, no one wanted to play singles and so, by volunteering to do that as often as the captain would let me, I got to play every single time I played for this team.
I do love playing singles when I can because I know for a fact that it helps my doubles play. But the fact is that here in my neighborhood, there are really not a lot of opportunities to play competitive singles matches. None of the teams that I regularly play on play singles. I just happened to luck into getting on this summer team to get to play some singles matches. Which is kind of sad because I really do believe that playing singles can help in improving your doubles game and make you an all-around better tennis player.
And I'll bet there are a lot of you who are just like me. You aren't playing a lot of singles or maybe you're even avoiding playing singles. If that's true, then I want to give you five reasons why I think you absolutely must play some singles tennis.
Now, I know that singles isn't for everybody. And if you are perfectly happy in your doubles world, then go right ahead and keep playing doubles. But I also know that there are a lot of you who listen to this podcast because you are looking for any way that you can to get better at tennis. And playing singles is truly a fast track to improving your game.
So, I'm going to give you my five reasons that I think you should be playing singles. And when you hear these, maybe by the end of this you'll be inspired to get out there and give singles a try.
So, here's why I think you and I should be playing more singles:
1. Singles is WAY more of a work-out than doubles.
It's obvious that singles is going to burn a lot more calories than doubles. Because there's no doubt that when you're the only one on your side of the net serving, returning and getting balls back in play, you're doing a lot more work. In Episode 48, How Many Calories Can You Burn Playing Tennis?, I estimated the calorie-burn difference to be about 150 calories an hour, with doubles burning about 300 calories per hour vs. singles burning about 450 per hour. That alone is reason enough to be playing more singles.
2. Singles is WAY more of a mental game.
Actually, singles is completely, mentally exhausting. At least if you want to win. Because you're out on the court all alone. There's no partner to encourage you, re-focus you and help you shake off your mistakes. You've definitely got to have more mental fortitude for singles than you do for doubles.
3. Singles requires you to have a game plan.
Maybe this seems more true to me in singles because there's only one opponent out there to concentrate on and there's only one person to get the ball back in play - me. All by myself, I have to figure out my opponent's weaknesses while, at the same time, trying to play my strengths. For example, in my very first ever tournament match, several years ago, I remember very well that my opponent was younger than me but much heavier and had a killer slice forehand that always came up short. So, early on, she would hit a short shot to me and then lob me or just pass me. After a few games of this, I beat her by avoiding her forehand, hitting to her weaker backhand and, when I could, forcing her to run back and forth because she was kind of out of shape and got tired easily. I won 6-2, 6-2 and was struck by the fact that I not only came up with a plan, but that it worked!
4. Singles players are just different from doubles players.
The ladies I played against were not just nice after our matches, they wanted to chat about the match - what they were thinking, what they thought of my game, what they were trying to do with their game, how much more they liked singles than doubles. Maybe this is because singles players don't have doubles partners to talk to about this stuff. Anyway, I found this a pleasant change from the usual post-match discussion with doubles opponents (which is often nice but certainly doesn't involve talk of strategy or how great MY game was).
5. A singles win is more satisfying than a doubles win.
When you win in doubles, maybe its because you and your partner were the better team. Or maybe its because your partner was really great and was able to carry you. Or maybe its because both of your opponents were just weak. Or maybe one of them was really weak and you picked on her the whole time. Its hard to know sometimes just why you won in doubles. But in singles, there's no doubt - you, and you alone, were the better player. And that all by itself is a good reason to play singles.
RESOURCES AND LINKS FROM THIS EPISODE
Click to link to this Tennis Quick Tips episode:
SHARE, SUBSCRIBE AND REVIEW
If you want to make sure you never miss an episode, it's easy to subscribe! Just click on one of the buttons below: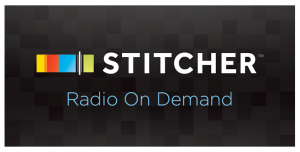 You can also get the direct RSS feed for your own favorite RSS Podcast Player by clicking here: Tennis Quick Tips Podcast RSS Feed.
And if you'd like to become a friend of the show, please leave an honest review on iTunes by clicking here: Tennis Quick Tips Podcast iTunes Page. It will help the show become more easily discovered by like-minded, awesome people just like you. I appreciate it!
Looking for a specific episode? All of the Tennis Quick Tips podcast episodes are listed on the Tennis Quick Tips Podcast page. Just click here to find what you're looking for: Tennis Quick Tips Podcast.
BUILD YOUR TENNIS FITNESS AND ENDURANCE
If you're really interested in building your endurance and fitness for tennis, I know you'll like my very first tennis mini-course, Simple Endurance Training for Tennis. For more information or to join the course, just click on the image below or visit: http://tennisfixation.com/endurance.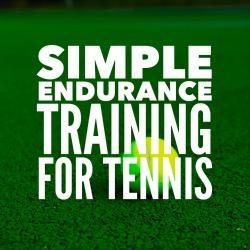 GET A BETTER SERVE FAST!
And if you're interested in getting a better serve - fast! - get my free ebook, 10 Quick Fixes to Improve Your Serve: No Lessons Required.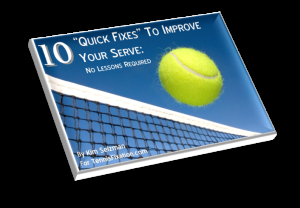 By applying the 10 simple tips to your serve that I give in this ebook, your serve can become a tool that you can use to gain control of points. It can become more powerful, more accurate, and something you're actually proud of. Just enter your email below and you'll get instant access to this free ebook as well as weekly updates with all of my best tennis tips!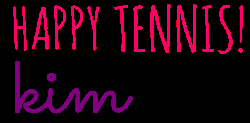 © Kim Selzman 2016 All Rights Reserved
Full disclosure - Some of the links in this post are Amazon affiliate links. I make a very small commission if you purchase any item using my Amazon affiliate links. Your cost is the same for these items whether or not you use these links. This does not influence my opinion of these items and I always tell the absolute truth about every item that I review. I usually do not review items that I don't like.