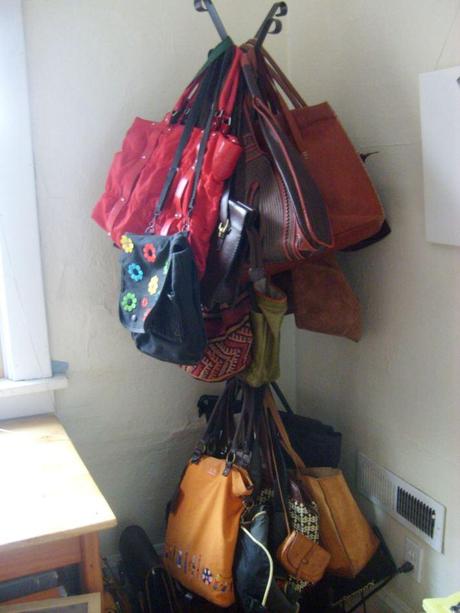 My bag collection
It's an understatement to say that I like bags. This is only part of my collection. I finally bought the coat rack as way to keep them organized, and I keep this coat rack in my office next to my desk.
I know nobody needs this many bags, but I love them all. I blame it on genetics. My mother also loves bags. While, of course, I buy bags even when I'm not on a trip, I often buy a bag when I'm on a trip. My justification for this is that as I like big bags, I can use it as an additional piece of luggage to bring things back. But, I will admit that's a flimsy justification because I always pack a folding duffel bag just for that purpose.
I don't remember exactly when it was I first started buying a bag as a souvenir, probably the first time was practical, but I've kept the practice up for many, many years. What I love about them is that it's a way to keep my travels with me in my everyday life. I can go off to do an interview, packing my notebook and other items into a large leather tote I bought in Old Town Krakow's Sukiennice so long ago I can't quite remember when I got it. A canvas tote bag, silk-screened with the name of a gallery in Tallin, Estonia, always reminds me of that trip, a trip to the Baltics in February, when it was bone cold, and as we walked around the city, we kept ducking into shops, cafes, and galleries to keep warm.
One of my favorites is a bag made from old kilim saddlebags that I purchased in Urgup, Turkey. Its strap is just made from twined colored rope. I have bicycle panniers purchased in Amsterdam, a grocery store shopping bag from the Galeries Lafayette in Paris. It's made of orange cotton, has leather handles, and a silkscreened designs making a border at the bottom. Although its embroidery is starting to fray a bit, I never carry my embroidered leather bag found in an out-of-the-way stall in Jaiselmer, India, more than 20 years ago without thinking about how close we came to not visiting that city, and how glad I was that our plans changed and we did.
And, of course, one of my favorite museums is the handbag museum in Amsterdam.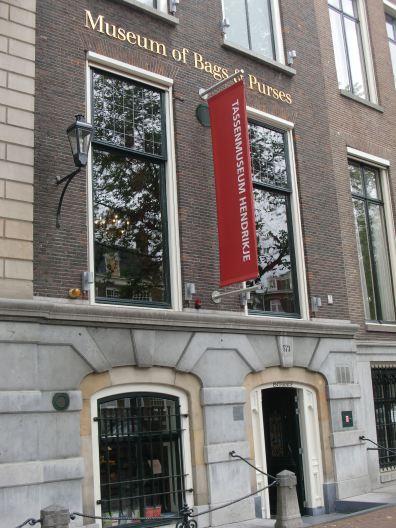 Hooray! Amsterdam's handbag museum
I'm happy to report that the bag love has extended to the next generation. On a family trip to Paris almost six years ago, I asked Ruby what she'd like to buy as one of her trip souvenirs. "I think I'd like to get a bag," she said. What a proud moment!
You might also like Travel obsession: school supplies.