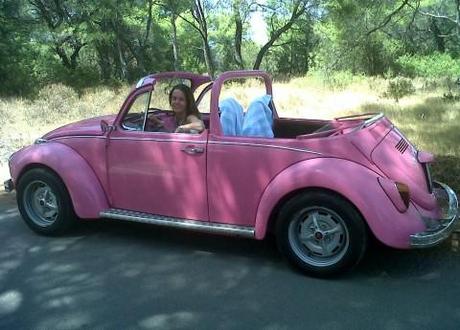 Lucy Beresford recommends everyone get a pink VW Beetle – live a little!
I've just come back from 10 days holiday in Croatia: hot sun, fabulous seafood and lots of new experiences. We're always being urged as writers to confront the blank page by writing, anything, to make that mark. You can't be published if you don't write anything at all.
But sometimes we need to drag ourselves (in my case, kicking and screaming) away from the laptop to live a little. To be inspired by new people, new places, new experiences. On holiday we hired mopeds and a pink VW Beetle; we discovered unspoilt beaches in Makarska, a nudist camp on Hvar and a group of old people in Split serenading each other with songs from their youth. In one town, a dog watched us from its window on the eighth floor, while in another, a yacht with its own jet-ski and helipad inched its way into harbor.
Something from this holiday will, I'm sure, find its way into my next novel (which awaits comments from my agent, the nerves around which will form the subject of a future post, no doubt) or into a short story. Or I shall simply be refreshed, tanned, and filled with the happy memories of sampling 12 different flavours of ice-cream. The holiday was a reward from my husband for four exhilarating months writing Happy Relationships, to be published in January 2013. I needed a break. I needed to relax. Recharge those batteries.
Writing is as vital to me as breathing. But every so often we need to step back, metaphorically hire that pink Beetle and drive off into the unknown. Our stories will always be the better for it.
This post first appeared on Lucy Beresford's website.