Well ordered Ammi's Biryani from a food delivery app called Swiggy. The food was warm and reached on time. The packing was also done nicely in a cardboard piece with a portion of Veg Hyderabadi Biryani along with a mint-curd chutney and another a tomato based chutney. Also ordered a small portion of Achari Aloo.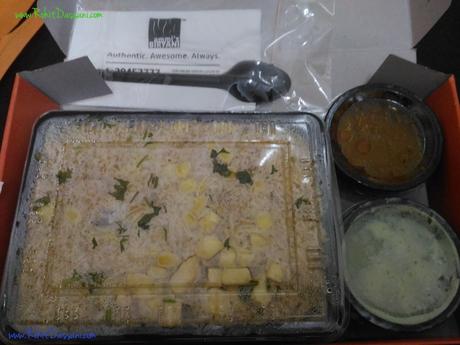 The Biryani had paneer and corn pieces sprinkled on top. The taste of the Biryani was utterly disappointing. Who uses Babycorn in a Hyderabadi Biryani? The use of  corn pieces on top was a disgrace to this amazing dish. The lack of salan and raita was a big bold mistake. The accompanying mint-curd chutney was so so but the Tomato based chutney was awful. On top of that the Achari Aloo were made from this tomato chutney only. Had to throw everything away. Had the worst Biryani experience.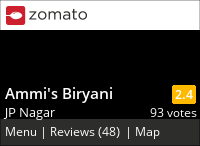 On top of that I dont blame Ammi's, its a fault of Swiggy who doesnt even screening the outlets they support. Please order from known places only and if the rating is bad, the food is ought to be bad! Please dont order from Swiggy as they have made the experience of food delivery an utter disgrace. And on top of everything they didnt even respond to my complain! Dont seem to offer much on Customer Satisfaction.