Business Insider did not one but two articles on Scott DeLong and his ViralNova.com. ViralNova makes it bacon with click bait. DeLong started a site that in just 8 months gets 100 million visitors.
From the article:
Most people dream of getting rich instantly. That's why the lottery is so popular.

One man, Scott DeLong, found a way to do it. Eight months ago, he founded ViralNova.com. It's a media company that uses click-baity headlines to draw in readers. The content is perfect for Facebook sharing. Headlines include:

It Might Look Like A Normal Chandelier. But When You Stand Underneath It And Look Up…Wow.
This Guy's Crazy Idea Started To Make His Wife Nervous. But It Was Worth It, Trust Me.

Last month, his website pulled in 100 million visitors. That means, 100 million people visited ViralNova.com. DeLong uses remnant ads (cheap ads, like Google AdSense). There are two ads on every page. A site like ViralNova, which pulls people in via external links, usually has a high bounce rate (or people who leave the website quickly). That means each user is probably reading one or two articles, and ViralNova's two ads are probably running on 100 – 200 million pages every month.
The writer of the article had a nice back and forth on Twitter asking DeLong why he would want to sell. It is worth reading the whole article as its interesting going inside the minds of entrepreneurs. DeLong does not want VC, he does not want to hire people and he said he does not like pressure. His reply to being called lazy in the first tweet was excellent. As someone who spends up to 18 hours a day working and writing online I always chuckle when friends of mine talk about the work while at the same time complaining about a mere 8 hour work day. Of course there is risk here for any potential buyer as DeLong is the talent and if he leaves the business might take a hit. The other risk is he gets a lot of traffic from Facebook. Facebook recently changed the NewsFeed algorithm, but DeLong told AllThingsD's Mike Issac on Twitter that ViralNova's traffic has only increased since Facebook's algorithm changes.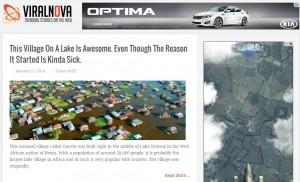 One commenter summed up perfectly the model:
this reminds me of sites like Mahalo that were good at gaming google SEO until google changed its algo with Panda update or Zynga when Facebook prevented them from spamming the newsfeed.
…