Here's a peek inside a staff meeting at PSCS. Remember, there are only four teachers, three administrators, and an administrative assistant, so the conversations are always very intimate.
PSCS founder Andy Smallman led a conversation that was inspired by Parker Palmer's book A Hidden Wholeness. He started by drawing a map.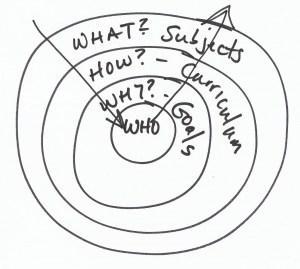 The traditional way of looking at school is from the outside-in. So, when schools are hiring new teachers, they start with the "what." They look for someone to teach English or P.E. or Science or whatever the academic subject calls for.
Then they'll figure out how they're going to teach the material—that is, what curriculum they'll use.
The next step is to tie the curriculum into a larger goal of why they're teaching it. Maybe that means helping kids pass a state standardized test, or to help them build up their transcript for college. Perhaps they have even loftier goals like helping kids develop critical thinking skills.
With all that in place, then it's time to find the teacher who can deliver it. That's the "who."
At PSCS, our focus is the opposite. Our focus is on the inside-out. We start with the "who" because the quality of the people that surround our students is much more important than the content they're teaching. We want to surround students with people of good character, who are excited about life, who are role models, who demonstrate a curiosity about the world and an enthusiasm for learning.
Andy was explaining all this while standing next to this map, which he had drawn on a white board. He looked at one teacher and said, "That's why you got hired here. You didn't get hired to do this [pointing at 'what'). You got hired because of this." Then, he pointed at the "who."
This particular teacher, like all the teaching staff, was hired because she's a talented person, someone with integrity. We want her to offer classes because she loves the subject content, and we want her to do it in a way that honors her unique talents as a teacher. The outer ring—the "what"—comes last. Whether she is teaching Evolutionary Biology, Fiber Arts, Origami, or Catering 101, the important lessons that students are learning have to do with deepening their understanding of the school's core commitments: practice integrity, engage the community, act with courage.
They're learning how to dial into what they love to do, and how to turn their passion into achievement. The academic learning comes as a by-product of the process of learning to be an adult.
* * *
Another teacher asked, "Does this model work for students as well?"
Andy said, "I didn't create it with that in mind, let me think about it for a moment."
Each of the staff members stared at the drawing for a moment. The answer, of course, is that it explains perfectly why society is so frustrated by the traditional schooling model. The unique needs of an individual student—because of the way the institution is designed—are subordinate to the subject matter, the curriculum, and the lesson plan. In a traditional school, teachers respond to the individual needs of students within the context of the lesson plan.
Reconceptualizing this map from the inside-out makes all the difference.