Was certainly a question Drew and I were asking at 2.45am on Sunday morning while the rest of London was asleep in total darkness. We could just go back to bed and get up at a normal time, head over to the London Marathon and cheer along the carnival, possibly via McDonalds and then just drink the afternoon away. Seemed like a perfect way to spend a sunny Sunday.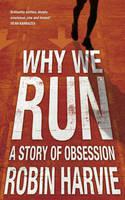 However our plan was different, we were up in the middle of the night to head over to Big Ben for 4am to meet Robin Harvie; author of Why We Run, to then run the London Marathon route in reverse. Why?
Drew and I set out, along the canal where even the geese were asleep and then on down a lively Edgeware Road that was still alive and the smell of shisha and the aura of mocking washed over us. We arrived at Big Ben around 3.45 and waited for the clock to strike 4 to head off on our meander back to Greenwich Park.
There were 7 of us in total. Myself, Drew, Mark, Rob, Alex, Hugh and Robin. The first few miles along the embankment were fairly easy going though and all the mile markers were already out there. Felt odd running through 25, then 24, then 23 etc. It was already quite warm and the weather reports promised a warm and sunny marathon later on.
Rob and Mark were setting a faster pace in front and the rest of us were happy to be plodding along at 4 hour marathon pace. I got a chance to chat to Robin about running and his book and future running plans as we counted down the miles.
Why We Run - The Book
It would be easy to compare this book to Feet in the Clouds and since I am a big fan of making things easy I think I will. There are a a few similarities. Both are very well written and are from the point of view of a "normal" runner, not a super-athlete. Both detail an obsession with a brutally hard endurance event. Both stories are told alongside the histories of those who have done the same before them. The key difference here was that the obsession was much closer to home for me. It was about the Spartathlon.
Robin is a normal guy, as far as you can call ultra-running and Spartathlons "normal". His journey into Ultras is quite similar to mine (and many others I am sure). He ran a few marathons, felt like he hit a plateux in terms of time and decided to go longer instead. He picked the Spartathlon as the race to do and set about an intense and time-consuming training schedule, much of it on the river Thames. I may have crossed paths with him along that river while training for the same thing.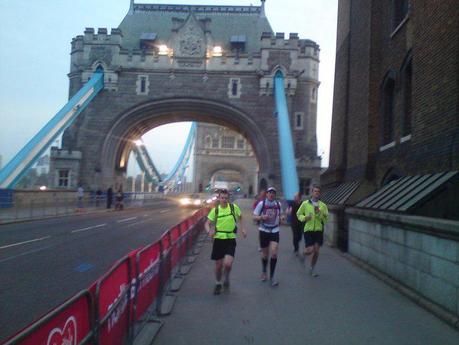 Just passing half way around 6am

There is a great account of the ancient olympics and some of the history of great endurance runners. This fits in perfectly with his accounts on training, his own motivations as to why he should take on something like the Spartathlon and his quest to discover why we run. I thoroughly recommend reading his account. Any of you obsessed with an endurance event (and I am guessing if you are here you will be) then this book is well worth reading.

So, back to the run. Why am I doing this again?

I continued to chat to Robin about the Spartathlon and said it was great that the race was getting some recognition as being the toughest race out there. All those I know who have done this and the other so called toughest (you know what they are) agree that running from Athens to Sparta in 36 hours agree that this is on top. His recent article in the Telegraph is a great read.

Poplar high street and Canary Wharf were very quiet at 5am, in just a few hours they will be overwhelmed with loud and colourful support. Day started to break around 5.30 and from 6 at the halfway point on the Tower Bridge there were signs of life as people in high-vis jackets started to build the huge event that is the London Marathon.

Over the bridge and into Bermondsey it felt odd to be running a course that I had done 4 times before through a city that I have lived in for 7 years and finding that I just did not recognise any of it. This part of the route is fairly residential and quiet at 7am. As we approached Greenwich the roads were being closed, the water stations loaded and masses of marshalls were assembling.

I felt quite good until arond the half marathon point. It has been a long time since I have ran this distance, not since my operation and it showed a bit. I also can't remember the last time I ran this much on roads, it was probably the Spartathlon last year. All of my races this year have been off road. I am not too worried though about having to run 45 miles on a road each day for 70 days.

My "plan" for the US would be to run at about the pace we were running here, about 9 minute miles but add lots of walking breaks in there so to finish 45 miles in around 10 hours. I think not having had any sleep the night before made it harder too.

I lost count of the number of people who shouted "you are going the wrong way". We saw a guy coming the other way who was doing the marathon 5 times. Not sure how he planned on doing that as he would have ended up at the end when it started.

There seemed to be some significant climbs heading into Greenwich which probably explains why people go so fast at the start going down them. By now the water stations were fully functional and waiting for the race to start in a couple of hours time.

It's amazing just what in event this is. Unlike other events this closes down one of the worlds biggest cities to stage this event. It is awesome to see just how many lorries full of water, energy drink, fences, cones etc are needed to make every single miles of this race. Glad I was not running the other way though.

We got to the start bang on 8, bang on target. I felt really quite knackered, more so than I would usually after doing the same much faster. I was really pleased to have got up. We said goodbye to Robin who was later on the TV and we walked through the starting areas. Ha ha ha these chumps have not even run a marathon yet today.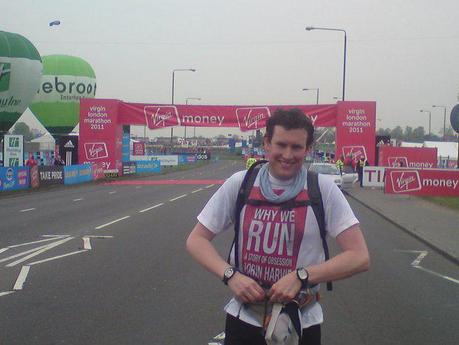 Robin and the start line we were not allowed to cross

We got more of the "you are going the wrong way" remarks as we left the starting area to leave.

I spent the afternoon handing out water at the 20 mile water station. I was tired and though it does not sound like it handing out water is quite exhausting. I've done it a few times and trying to stay focussed while zombified runners stagger over and take water or miss you completely. It is great to be involved in this race. I take the piss out of it quite a lot but I wished I was there running.

And then off to the pub. I did well to stay awake so long, call it training. I'll need this kind of endurance. It was really great fun to run the London Marathon in reverse, great to meet Robin (and his book is really really good so I suggest you buy it) and made me think about why I run? While sat outside a pub on a hot afternoon with a MASSIVE calorie deficit to deal with I couldn't quite figure it out...