So two days after I have seen Silver Linings Playbook and it is still on my mind, I actually used the phrase silver lining today after something changed with work and I have to do something else in the morning. But I worked out my silver lining for that, but if I had not just seen this film I probably wouldn't have used that phrase! So the point of this blog post? Well just to show that films really can have a big impact on your thinking, they can help you get a clear perspective for something and really change your mindset about life.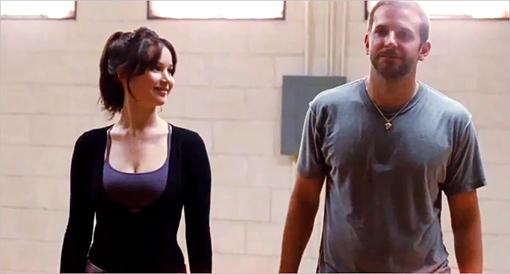 Lawrence and Cooper
I guess this just helps to back up how good this film is. If your still thinking about it days later, you know it must be a special one! As most of the time they don't really have a big impact and after a few days you have forgotten about it. I don't think that will happen with Silver Linings Playbook, it really does have so much meaning and a good heart to it. It wants you to really think about your life and how you can make it better. It touches on the everything happens for a reason thing as well, hence then finding the silver lining to that situation.
The fact that I am still thinking about this film and making a second blog post in as many days about it, this could mean it might just be my favorite film of this year! I don't really remember the last film which had me thinking about it so much, but honestly I think I may have to see it again. It has to be a very positive thing for a film to be telling us to go after the Silver Lining. Love may very well be key to a lot of things working out in life, I don't mean romantic love, it can easily be love from family or friends as well. Sometimes that could be all you need to help you through!
But the other thing that this film placed a lot of trust in was exercise, think of all the running and dance practice. Again I just love this as find that running really does help you put perspective on things, getting your heart beating faster and muscles working can again help you with that silver lining and with life in general.
So basically I loved this film and it's helping me think about the silver lining of everything!