Here at The Fashion Visuals we have a few celebrities that we look up to and, Olivia Palermo is definitely up there in our favourite list of beautiful celebrities who have superb fashion sense! For those of you who aren't familiar with this lovely lady she is a New York born high class socialite that was featured on MTVs programme 'The City' with, Whitney Port and since then she has continuously been in the public eye due to her radiant and elegant sense of style.
What we love about Olivia is not only her natural beauty and amazing figure but her style is a perfect combination of preppy chic and she is never spotted with a hair out of place as she always looks perfect in every photograph.
The following images are some of our favourite pictures taken of the fashion queen whom we think will offer a great inspiration tool for outfits to put together over spring!
We love this little yellow dress teamed with a contrasting fuchsia ruffled clutch and leopard shoes (which are available in a similar pair at Ravel shoes) as we think the boldness of the outfit, and the simplicity of the up-do hair and minimal make-up gives off a fresh vibe for spring and even summer.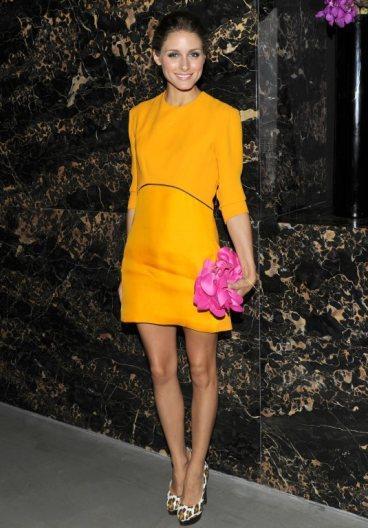 What is not to love about this super cute photo of Olivia hopping onto her boyfriend, Johannes Huebls bike through the streets of Soho in NYC!? What we love about Olivia's look on the photo is her sparkly pink hi-tops teamed with a clean-cut shirt, jacket and leather leggings! It is the perfect combination of comfortable class.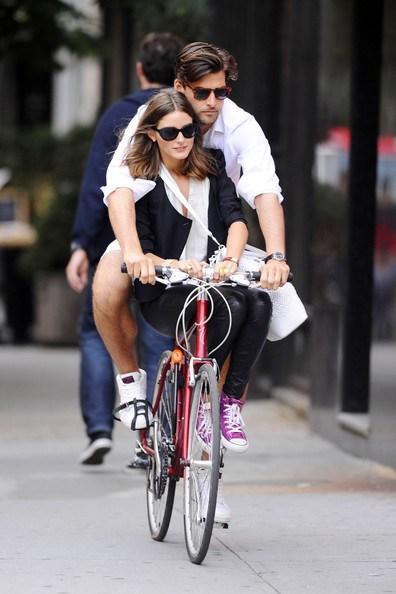 This floaty ensemble in shades of white, grey and blacks with a twist or dark tan pumps provides a cool and feminine twist to a spring look with the over-sized bag and sunglasses! We think this outfit will look great worn out shopping or out with friends for a spot of brunch in the sunshine.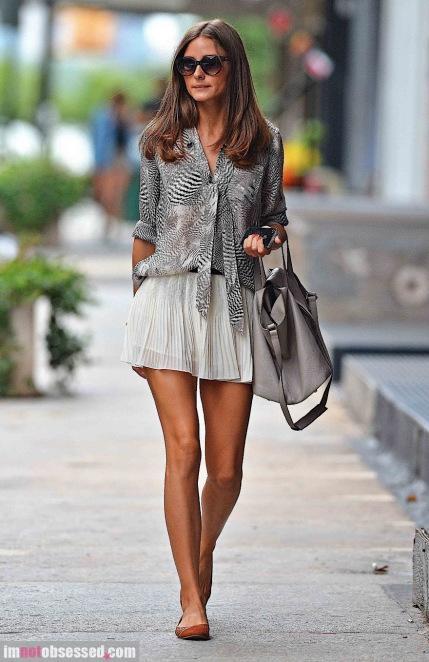 For spring this year it is important to have a must-have maxi skirt which Olivia is wearing here in a red silk design with beautiful embellished detailing. We think this over all look teamed with a structured jacket, tanned peep-toe lace ups and a floppy hat offers an unbelievable twist of day to night time glamour as the jacket can be removed for the day to be worn with shades, and it can be put back on in the evening to sip cocktails SATC style.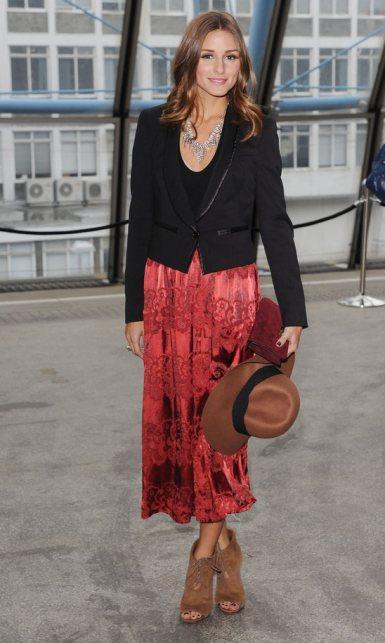 We absolutely love these shots taken of Olivia and her boyfriend and what a gorgeous couple they make! As many fashionistas know, you can't go wrong with a little black dress and this elegant LBD that Olivia is wearing with her hair in a low pony-tail and minimal jewellery offers an effortless look with a sophisticated twist and we think she looks hot!!!