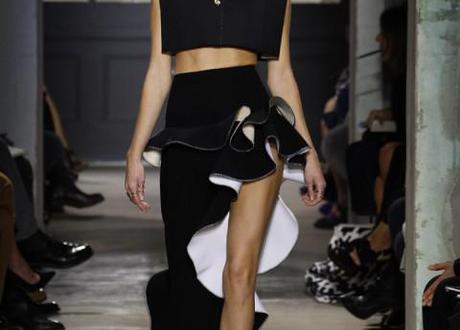 Flamenco frills at Balenciaga. Photo Credit: Balenciaga.com.
The background
Paris Fashion Week always boasts some of the most impressive sartorial talent and successful couture houses in the world. The fashionistas who flock to the French capital do so with eager anticipation, bated breath and blackberries on standby. After all, Paris is, as Style.com declared, "the big stage where you fully embrace the pact with the dream of fashion."
This year in particular sees the long awaited debut of fresh blood at the helm of two French fashion giants: Hedi Slimane at YSL and Raf Simons at Dior. So far we have seen a tamed Gareth Pugh, 'deconstructed classicism' from Lanvin, scarlet woman Kristen Stewart front row at Balenciaga and, bien sur, the hotly anticipated debut of Monsieur Simons- he who landed the hottest job in Fashion.
Back to black at Lanvin
Alber Elbaz is the comedy showman of fashion who didn't disappoint last season when, to celebrate his ten years at Lanvin, he broke into song. This year, the memory of the all-singing-all-dancing Elbaz is replaced with this season's more sombre, mature offering. It is "deconstructed classicism" he tells Style.com, who called it "a rebellious sense of classicism." It was a sleek and sexy collection, in the "exploded tuxedo silhouettes" and sharp angles. The designer told Vogue that the collection was very "square." This is evident in, as Vogue observed,  the "short and sharp dresses …box-cut cropped jackets that were pointed on the shoulder; and …mosaic panelling that smothered jumpsuits and dresses and jackets like shards of gold and black glass." It was a new direction in many ways for Lanvin, and certainly a departure from, ironically in a season saturated with them, the usual sumptuous jewel colours: "It was darker – with a lot more black than we're used to seeing from this jewel-hued fashion house."
K-Stew braves Balenciaga
Safe in the knowledge that twi-hards rarely attend fashion shows, or that anyone interested would be wearing far too high a heel to chase her, Kristen Stewart broke away from her self-imposed solitude in the wake of scandal and braved the front row at Balenciaga. Thankfully, this season's collection was far more diverting than her love life, despite the fact that she was quite the label ambassador in a lemon Balenciaga biker jacket. Indeed, The Guardian noted that Stewart as the new face of the brand is only adding to its effusion of cool this season: "Barbed wire snaking across a dress front, dancing flamenco ruffles, boxy crop tops, super-sleek vanity cases and Kristen Stewart in a lemon yellow leather biker jacket perched on the front row – Balenciaga's show for next spring/summer had everything a modern fashion house needs." The mix of sharp tailoring and feminine ruffles was typical of Balenciaga's Nicolas Ghesquière: "sweet yet rebellious, old Paris meets new." The designer told The Times: "When people think of Balenciaga, they always think of very austere, stiff shapes, but I wanted to do something that would look light and fluid." The result was just that, with The Times even noting a dash of humor in the collection, "what a Balenciaga Inc would look like with Nicolas Ghesquière creating uniforms for security men and office technicians, and not just power-suited women who break glass ceilings."
A domesticated Gareth Pugh?
Pugh is not noted for his subtlety or demureness. His shows are avant garde costumes beloved of fellow dramatic dressers such as Daphne Guiness, who rarely steps out in something she can walk in. So it was a, somewhat pleasant, surprise that Pugh's Paris output was a more streamlined, softer affair. It was still Pugh though: with headgear varying from beekeeper veils to knitting needles. But The Evening Standard observed "a series of softer, elegant and more mature looks in sweeping vermilion, black fringing and pale dove gray" and asked; "Could Wednesday's show have been a coming of age for London's enfant terrible?" Style.com couldn't help but feel a little nostalgic: "in Gareth Pugh's metamorphosis, you can't help but miss a little of the giddy London fun of his earlier shows and collections."
The wait is over at Dior
It was the hottest vacancy in fashion and Dior's new frontman's debut collection became the biggest draw of Fashion Week. As Vogue notes: "For the fashion pack, it wasn't dissimilar to waking up on Christmas Day, all expectant and excited to see what Simons, one of fashion's most loved and thought-provoking designers, had up his sleeve." So was it worth the wait? Alexandra Shulman observed: "It was everything you expected but in some ways it was completely unexpected." Grazia believed the collection: "proves his super-human ability to stay true to himself even with the pressure of extreme expectations" and praised the "beautiful evening gowns with sheer overlays, voluminous opera skirts and butterfly-inspired minis." New York Magazine noted: Perhaps the best thing about this collection was its breadth. There was something for everyone: A long-sleeved gown with a demure scoop-neck and rich, full skirt would be just as appropriate on a woman in her nineties as it would on a teenage starlet. But there were plenty of edgier youthful looks, too, like the strapless asymmetrical tops rendered in gathered gold fabric that wrapped up the models' torsos like little Christmas presents." So it really was Christmas day after all.
More in fashion

Milan Fashion Week: Pregnant models and the return of the lady
London Fashion Week: Hits and big misses
New York Fashion: Let's take this outside