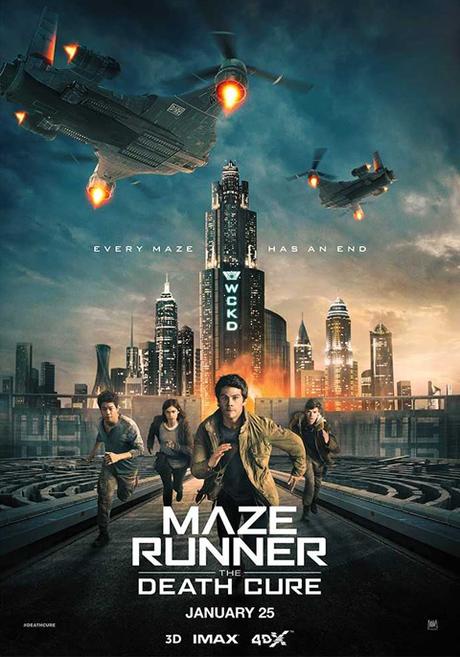 Maze Runner: The Death Cure
Director Wes Ball
PG-13 | 2h 21min | Action, Sci-Fi, Thriller | 26 January 2018

Thomas leads some escaped Gladers on their final and most dangerous mission yet. To save their friends, they must break into the legendary Last City, a WCKD-controlled labyrinth that may turn out to be the deadliest maze of all. Anyone who makes it out alive will get answers to the questions that the Gladers have been asking since they arrived in the maze.




If you were a fan of the Maze Runner film series, there's no doubt you heard about the alarming news that the final film in the trilogy had been halted indefinitely due to a severe injury to its star Dylan O'Brien. There was a time, when he was in recovery that the film was in limbo and we didn't know if this story would ever see the light of day.
Well, it has and I have to say it was worth the wait. Sometimes, in a series, if you have to wait too long between releases it becomes easy to forget what happened, forget the characters. I found, the moment the movie began, it effortlessly reminded you of everyone's roles in the story without question. It opened strong, with an action scene that (within the first few minutes I was sure where the terrifying injury must have occured).
You are pulled back into Thomas' world, the remaining members of the glade and their struggle and journey. Everything in this film is deliberate and it shows. They reintroduced things you had forgotten about simply by triggering your memory without having to spell it out for you.
It tied together the entire series and left you satisfied. More often than not I've found a film series seems to lose momentum with their adaptations, taking unnecessary risks and the story suffers. The writers and directors managed to avoid this even with the unexpected delay in filming.
If you are a fan of this series and you haven't seen if yet...what are you waiting for?