As days move on, the trend makes bigger changes in social media accordingly catching the technology. Firstly, messages from these instant messengers focussed on delivering the safe way of chats. Later catching new trends snap chat introduced post stories feature which inspired many popular instant messengers like Instagram, Hike and most recently WhatsApp too launched post stories feature.
In this post, you will come to know what is post stories? how to post? and how secure they are?
Post stories feature:
In one-word, post stories are nothing but posting instant stories as your status which disappear in 24 hours of time. Firstly it was introduced by snapchat and later on followed by most popular messengers like Instagram, hike and WhatsApp. This feature lets you share your photos and videos which disappear in 24 hours of time.
How to use this feature:
In your messenger, it shows that 'post a story' once you click on it your camera turns on and you can add instantly by taking a click or by choosing the file in your gallery.
How safe these stories are:
Your stories are safe as they come in end-to-end encryption type in which your post will be deleted or disappears within 24 hours of time automatically and the best part is that others cannot save those posted stories.
Your friends and other contact members can reply you privately on that posts and you can manage your privacy to whom the post should appear and hide.
What's new with WhatsApp post stories feature: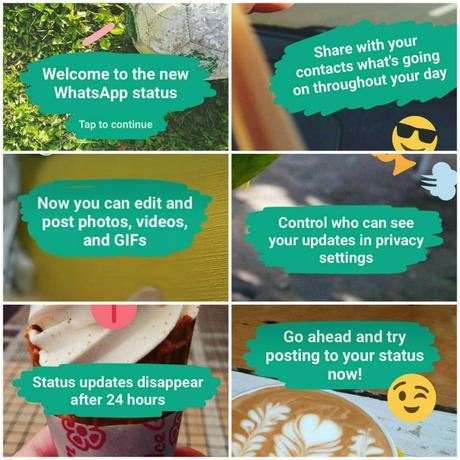 There are some features which made WhatsApp post stories feature a unique one. Among them, you can share GIF's in your status and now you can easily edit your photos and videos before posting. Your safety is secured with WhatsApp in the form of end to end encrypted format in which your post disappears in 24 hours.It can be visible to your contacts members only but not to everybody. You can limit the status from certain people by applying privacy settings.
Snapchat, Instagram and hike are in the sequence of these post stories feature but WhatsApp had made this feature a better one then the other messengers.
Read:
Hike – Best Messenger App In The World For 8 Reasons
Whatsapp Video Calling Features and Introductory Facts
Tip of the Topic:
Post stories feature is an excellent way to update your status with photos and videos and the best part is that they are totally safe. These post stories feature is end to end encrypted by which your post disappears automatically and secures your privacy by limiting your audience views. Finally, it is very safe to use and it is a most secure feature.