Have you ever wondered about the health benefits of skiing? Many people are nervous about getting out on the snow and learning this new skill. However, winter sports remain increasingly popular across the US, and enjoy getting out and about when the instinct is to stay home and warm and out of the snow.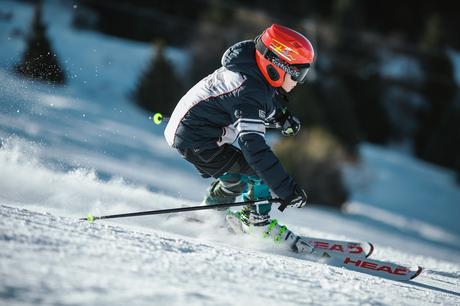 If you want to know the benefits of skiing, this post looks at how learning to ski can improve your health.
Strengthens Joints and Bones
With each turn and navigate down the mountainside, your knees and joints work hard to handle the tension. This strengthens your knees and stretches your joints and muscles. The weight-bearing on your legs strengthens your bones, preventing osteoporosis and other knee and joint issues.
Plus, you can benefit significantly from the added flexibility skiing affords your body as you use a wide variety of muscles when skiing. As well as supporting joints and bones, you can maintain flexibility too.
Strengthens Your Core
Skiing is challenging without good balance and a strong core. The deep core muscles (abdominal and pelvic floor muscles) are essential stabilizers and get a great workout when skiing. Skiing has many health benefits, including deep core stabilization, which supports your complete system, including breathing, posture, and digestion. Strengthening your pelvic floor muscles benefits your entire body.
Take this up to another level by including yoga or pilates to your pre and post-ski routine to help you support your core and strengthen your body both on and off the slopes.
Improves Heart
Skiing works your heart hard. Skiing is an aerobic sport that increases heart rate and cardiovascular endurance. Capillaries can deliver more oxygen to muscle cells when your heart is stronger. With this in mind, there is no denying that skiing is an excellent method to keep your heart healthy and your body fit. Try walking up the hill instead of taking the ski lift (you'll feel it the next day!).
Plus carrying all of your ski equipment such as skis, clothing, gloves, ski boot bag and more will help you boost the workout too.
Helps Maintain Weight
How many calories do you burn skiing? Skiing burns 223 calories in 30 minutes for an 11 stone person, according to Harvard Medical School. It's surprising how many calories you burn skiing for several hours per day for a week! So keep your energy up by eating excellent chalet meals during your ski break! Make sure to supplement this by eating meals that are delicious and meet the nutritional needs of skiers and snowboarders. 
Improved Mental Health
Being on the slopes has been shown to have positive psychological effects on those who participate. As a result of spending the entire day outside and basking in the Vitamin D from the sun, your body's production of "feel good" chemicals, such as endorphins and adrenaline, is increased. This is especially true while participating in an activity such as skiing. Skiing outside has been shown to improve mood and provide a stronger sense of well-being and enjoyment.
Do you ski?
Thank you for reading!