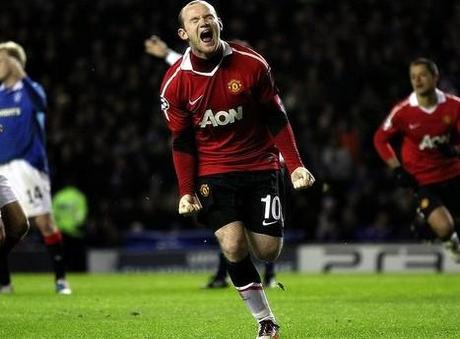 Manchester United striker Wayne Rooney. Photo credit: Audrey Pilato http://www.flickr.com/photos/americanistadechiapas/5284558112/
Manchester United are firm favourites to retain the Barclays Premier League title after they scored two late goals on Monday night to beat a plucky Blackburn Rovers side. The composed two-nil away triumph means United are now five points ahead of Manchester City with just seven games to play and, crucially, can now afford to lose the 30 April Manchester derby and still win the league. Although Wayne Rooney and co have not yet lifted the trophy, the sports commentariat are already seeking to identify the reason why United have almost definitely bested the competition yet again.
"In this most unpredictable season it would be folly to announce the end of the race with 21 points to play for, but the scenes of celebration from all those with United connections as Howard Webb sounded his final whistle betrayed their unspoken belief that a crucial blow had been struck," observed Phil McNulty at his BBC blog. "Try as you might and as risky as it may be, it is now hard to escape the inevitable conclusion that United will go on to claim a 20th title."
Fergie's mind games. Writing at The Mirror, BBC Match of the Day pundit Mark Lawrenson credited Sir Alex Ferguson with masterful mind games: "Ferguson has made a habit of getting under the skin of rival bosses down the years. Roberto Mancini is the latest victim and anyone who dismisses mind games as an irrelevant sideshow do not understand just how clever Fergie is. Manchester City have been affected, wound up and distracted by Fergie's barbed comments. Instead of looking cool, calm and in control of the situation, City have seemed annoyed and have lost some of their focus." Lawrenson insisted that "this is not a classic United side. In fact, they are a team in transition. But for a team in transition to carry on winning trophies is a remarkable achievement. That says much about United's willpower, determination and spirit. You have to use all the tools in your armoury and Fergie is doing that with his mind games. But it's not just psychology against opponents. While Mancini may complain about injuries, tiredness or missing players, Ferguson never gives his players an excuse. Put a seed of doubt in a player's mind and you give them an excuse and a reason not to go out and win."
De Gea's improvement. Kevin McCarra of The Guardian's Sport blog heaped praise on United's improving young Spanish goalkeeper David de Gea and reminded that "the likely glory of another Premier League title is founded on austerity. Manchester United count at least as much on those who prevent goals as those who deliver them." McCarra said de Gea's heroics between the sticks at Ewood Park finally put to bed early-season "reservations" about his big-game mentality. McCarra noted that de Gea was "terrible" in the New Year's Eve reverse fixture (which Blackburn won 3-2) but insisted that his "acclimatisation" to the Premier League is now complete: "At Ewood Park De Gea made the classic response of a goalkeeper who, in a potent side, typically has to settle for a sporadic role, denying Blackburn twice at the close of the first half. A man once in need of reassurance is now a comfort to United followers."
Rio's cool head. Oliver Platt at Goal.com  argued the 33-year-old defender Rio Ferdinand has be absolutely crucial to United's success so far. Platt said Ferdinand "has done exactly" what has been asked and his steady form has "dramatically improved the form of regular partner Jonny Evans. With Ferdinand reading the game from a deeper position, Evans can now step up aggressively and with confidence in the knowledge that his partner will be there to provide a safety net behind him … As talented as they are, Chris Smalling and Phil Jones could not have provided that." "Time and time again, Ferdinand has proven not only his ability on the football pitch but also his intelligence," argued Platt, who felt his telling contribution since the turn of the year has been hugely under-rated.
Valencia: The perfect winger. At his ESPN Soccernet blog, United fan Mark Payne talked up Antonio Valencia's significant impact since his return from injury. He said, "Tony Valencia plays football the way I aspire to live life. He is dogged, hard-working and has some flair. He knows his role and he performs it exceptionally well. We are darn lucky to have him and his thunderbolt of a goal came as a massive relief.