From Jim Hurst, 3x IBMA guitar player of the year, a 2x notloB Parlour Concerts alumnus and a hell of a great guy.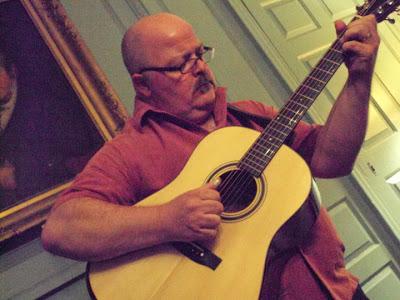 "Sorry if this surprises anyone, but I couldn't care less about the CMAs. Haven't enjoyed the bulk of what is called "today's Country Music" for quite a while... years.
I get it that it sells, and why that is SO important in business, I just don't understand why musical art can't also be included in that 'genre' - using the term loosely.
When country stopped playing the music of Vince Gill, Ricky Skaggs, Patty Loveless, and many many more - not even mentioning the legends - I quit listening, and buying.
Even more surprising to some of you: I actually appreciate Taylor Swift and her talent... heck, I even like her music. Yes, you read that right. Do I consider it country? Not me.
There is a LOT of music I wouldn't exactly call country being played on 'today's country' radio. Just because it has a tractor or a case of beer in it don't make it country, that makes it cheese factor 12 to me.
Besides the CMA's and the ACM's have almost always been much ado about nothing, even in the grand days of country music.
But, I choose to ignore the hype and the non-country music of the CMA's and ACM's and watch a good movie, HGTV, read a book, or take a walk.
But that's just me."