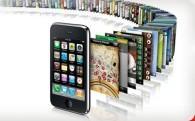 With tablet sales expected to exceed £100 million by the end of 2013 and smartphones being as common today as radios were yesterday, it is becoming increasingly necessary for websites to be designed to provide an optimal browsing experience regardless of the size of the device. Each of these devices has their own limitations and features, such as screen resolution which determine how web pages will look on a particular screen. A responsive website is one that adjusts to fit the screen of the device it is being viewed on. Responsive web design is a high priority item for web developers in the U.K nowadays due to the number of users accessing the web via devices other than a traditional PC.
Let's take a look at some of the reasons why it is vital for your website to be responsive…
Time and Money
Without adopting the practice of responsive web design, if you want users to have an optimal viewing experience on numerous mobile devices, you will have to develop and design a device specific app for each of these terminals or a separate set of templates for each. This can be quite costly and time consuming. Not many online entrepreneurs would want to spend that kind of time and money just to keep up and not doing so would be disastrous for your business. The solution? Responsive web design.
Sales and Conversion Rates
The chief benefit of having a responsive website is that all users will enjoy a good browsing experience as you no longer need to use standardized cascading style sheets (CSS) and there are no redirects to a 'mobile site.' Consistent user experience has been proven to have a positive effect on the site's conversion rates as everyone is familiar with the site's navigation system. Responsive web design eliminates most of the barriers of having multiple sites for each set of devices. It will present a consistent performance, functionality as well as a consistent feel and look.
Search Engine Visibility
You can easily manage a responsive website with one set of hypertext links which reduces the amount of time you spend maintaining it. This means that you have more time to focus on your SEO (search engine optimization) strategy. SEO can be quite costly but having a single responsive site means that you can focus all your efforts on that site with a unified strategy. Responsive web design also eliminates the need to duplicate your content across multiple websites as you only need to apply it to a single site which increases the chances of the pages having higher search engine rankings.
Moreover, responsive, mobile optimized devices feature prominently in localized searched and this offers an obvious advantage to online and high street retailers among other businesses.
Easily Readable Pages
All users can read content from a responsive website easily regardless of the device. Otherwise, it would be very challenging to zoom in and out or scroll across the screen in order to view all the content on a web page. A responsive website automatically re-sizes, adjusts and moves columns and images to fit the screen resolution. This allows optimal ergonomics in preserving the display and layout of information from the site.
Conclusion
As technology continues to evolve so will responsive web design. It will stand you in good stead to keep yourself abreast with new technologies and devices as they are released onto the market. You should keep your eyes open on the ever-changing user browsing habits and use the information to keep your website up to date.