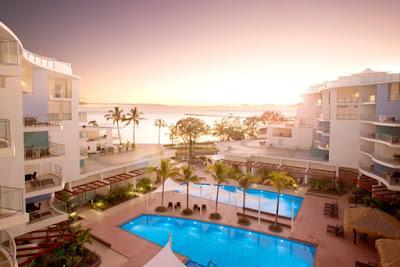 Fraser Island, a World Heritage listed place and the biggest sand island in the world, is a region of exceptional and immaculate beauty. Covering an area of about 184,000 hectares, its long and continuous beaches are flanked by remarkably coloured cliffs of sand. The region also features tall and majestic rainforests and a multitude of crystal clear freshwater lakes. There are many holiday resorts offering Fraser Island packages in Hervey Bay, to enthusiastic tourists flocking to the place every year.
Though there is no end to the attractions and activities one can enjoy in Fraser Island, some of the most popular ones are as follows:
Freshwater Lakes
The largest sand island in the world supports more than a hundred freshwater lakes. Ringed by beaches filled with white sand and perched on top of dunes, these water bodies are ideal spots for relaxing, swimming and organising picnics. One can easily drive at their own pace and discover the pristine beauty of these spots.
Dundonga Creek
It is a freshwater creek located on the island's western coast having its origins 5 kilometres inside the rainforest. It supports a variety of wildlife. The spot even features a diverse mangrove community, exploring which can reveal amazing attributes.
Seventy-Five Mile Beach
Situated on the eastern part of the island, the Seventy-Five Mile Beach features sand cliffs with striking colours sculptured by the prevailing winds. Close to the beach is a dunescape known as the Rainbow Gorge, also featuring lofty sand cliffs and a natural spring which flows only for some metres before vanishing in the sand.
Eli Creek
An attraction popular among visitors, this spot is among the several freshwater creeks on the island flowing from the underground water table. During the summer months, travellers indulge in a common pastime which involves floating down the creek to the point where the water meets with the shoreline.
Indian Head
Climbing Indian Head can allow one to enjoy spectacular views of the eastern coastline. During certain times in a year, dolphins, turtles, huge rays, sharks and whales may also be sighted from this point besides a variety of birds.
Fraser Island Great Walk Circuit
This circuit literally enables one to trace the traditions of the Butchulla people through diverse habitats and stunning sceneries. It combines remote and challenging routes for walkers who are experienced, along with short and easier strolls for overnight and day visitors, thus allowing travellers the flexibility to choose intensity and duration of their walks.