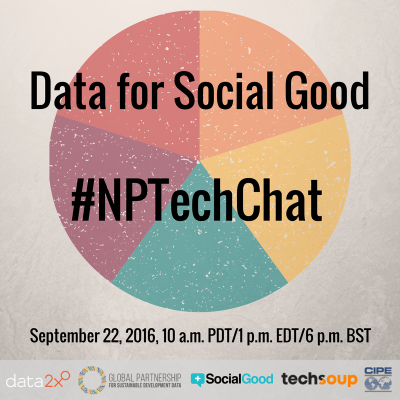 Data for social good: it sounds nice, right? But what do we really mean when we talk about data and social good? Join CIPE, Data2X, the Global Partnership for Sustainable Development Data, +SocialGood, and TechSoup as we unpack why data is important for our common social good.
Our Twitter chat will focus on the obstacles and opportunities found in the sharing of data. We will pay attention to the need for gender data. We will share tools. We will explore examples of where data has made a direct, positive impact on communities. There has never been a greater emphasis on the sharing of data. Likewise, there has never been a need for greater coordination and collaboration.
Join us for this live Twitter chat on September 22, 2016 at 10 a.m. PDT/1 p.m. EDT as we examine what steps are needed to move the data for social good project forward.
Tune in by following the conversation at the hashtag #NPTechChat.
Our conversation will go around the globe, and we will explore these questions:
Why is data important for promoting social good?
How can we ensure that access to data leaves no one behind?
What's the most urgent data gap that needs to be filled to promote social good?
What role should business play in harnessing the data revolution for social good?
What role do civil society and the nonprofit sector play in promoting uses of data for social good?
What are examples where data has improved people's lives?
What tools can we use to promote data for social good?
What are the limits to #OpenData?
Learn more about our chat hosts: